Reviews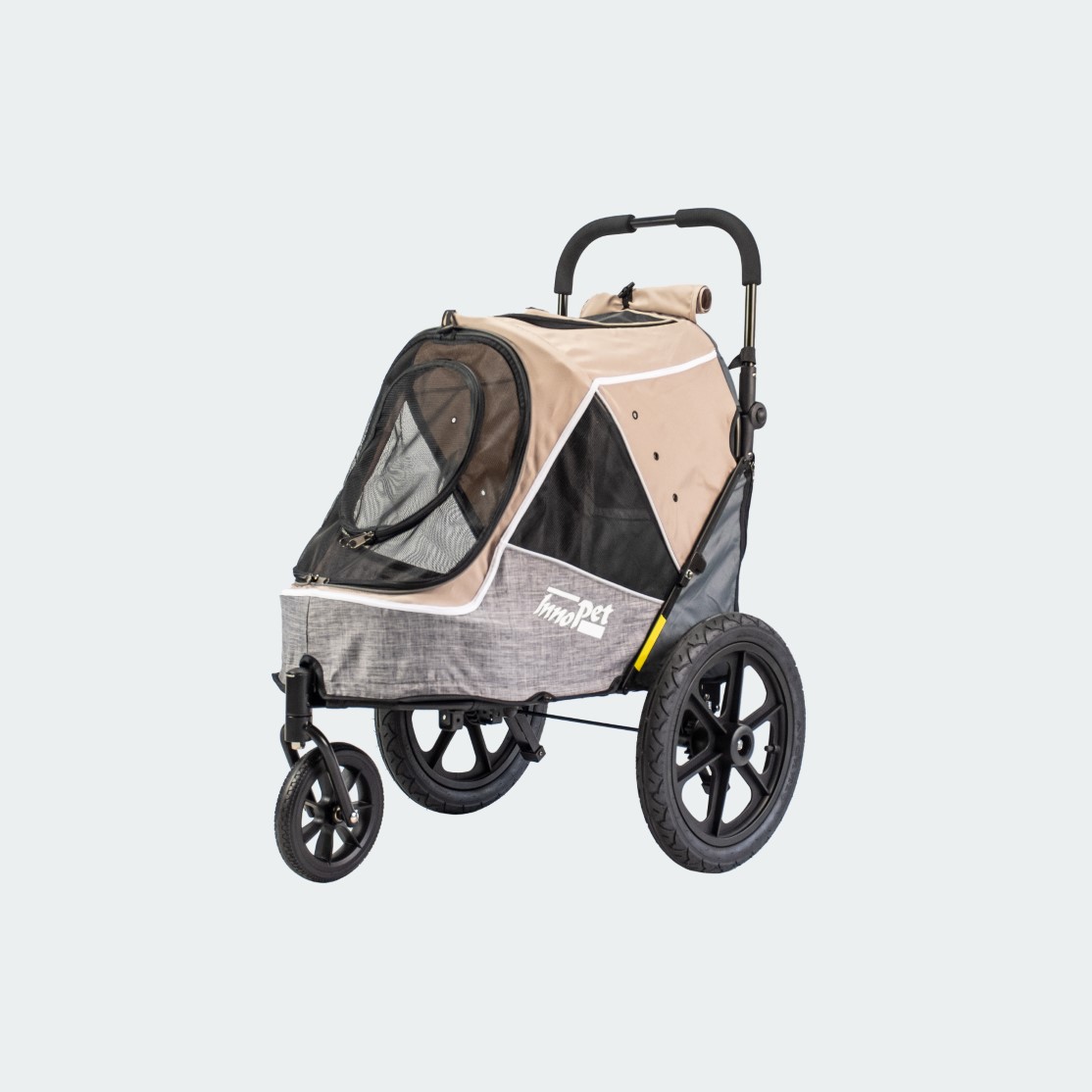 Best buggy for dogs
Posted on 28-03-2023
by

Martin Lilienthal
I bought the buggy for my 13 year old little dog who suffers from arthritis. He can no longer walk long distances. Now we no longer have any problems walking with our dog on dirt roads or on the beach. The buggy is easy to handle and moves very smoothly. You can set it up quickly and fold it up again. Transporting it in the car is no problem. The buggy is easy to store in the car and takes up very little space. The pockets for the smartphone and accessories are practical. The handle is easy to adjust for all people. It also cuts a good figure as a bicycle trailer. The bar for the bicycle can be mounted very quickly. I have had other buggies before, but this one is perfect for my dog!
Voor revalidatie en nog veel mooie uitstappen
Posted on 19-03-2023
by

Wendy Van Hulsel
Ik heb een Maltezer die weldra een patellaluxatie operatie moet ondergaan, hierdoor heeft hij een lange revalidatie die ik zo comfortabel mogelijk wil maken. Doordat de buggy ruim is voor hem kan hij voldoende rusten en na verloop van tijd ook mee op verplaatsing. Zowel om te wandelen als om mee te fietsen is deze buggy/fietskar ideaal voor onze situatie. Danjewel Innopet!
Super balade
Posted on 14-03-2023
by

GONSETH Andrée
Promenade en vélo ou a pied génial
Just brilliant
Posted on 07-03-2023
by

Angela Cookson
What a brilliant buggy for my ageing springer Marley who loves to walk for miles but unfortunately old age and two cruciate ligament operations have slowed him down .The buggy is well made solid and sturdy and Marley is the new kid around town in his posh buggy and Andrea from customer service is a real star prompt reply's to my questions thank you here's to happy strolling
ivm artrose hebben we dankzij ons mooie handige karretje onze vrijheid terug en kunnen we samen gezellig eropuit❤️
Posted on 12-02-2023
by

Sandra van Mulken
Super handig wandelkarretje ook voor ongelijke ondergrond. Stevig en handig in te klappen!! Blij mee!!!!
Elke dag genieten.
Posted on 07-02-2023
by

Bea dams
Het was plazand en wij gaan mog veel afenturen doen veel groetjes van basiel en bea uit geel van belgie.
Innopet® Sporty Evolution Dog Pram
Posted on 06-12-2021
by

Gerard
I walk my dogs everyday. I bought this pram for our pug as she enjoys walks but cannot walk as far as our staffy cross. She loves it, she has a good view of what's going on and I am happy she is safe inside. It packs down very quickly and we take it on our walking holidays within the UK. Both my dogs get inside it whilst we have a coffee at cafés. It is light and easy to manoeuvre. I recommend anyone looking to buy a pram for their dogs should seriously consider this make and model.
Dog pram
Posted on 08-09-2021
by

Adam
I bought this buggy for my dear 17 year old Patterdale Terrier. I wish I'd thought of it sooner as she only got three rides in it before going over the rainbow bridge. She absolutely loved it. Walks were always the best time of day and it was wonderful to share these times again before she fell asleep. The buggy itself was fabulous. Easy to manoeuvre and control. It was sturdy and once I put in Roxy's fluffy blanket cosy too