Reviews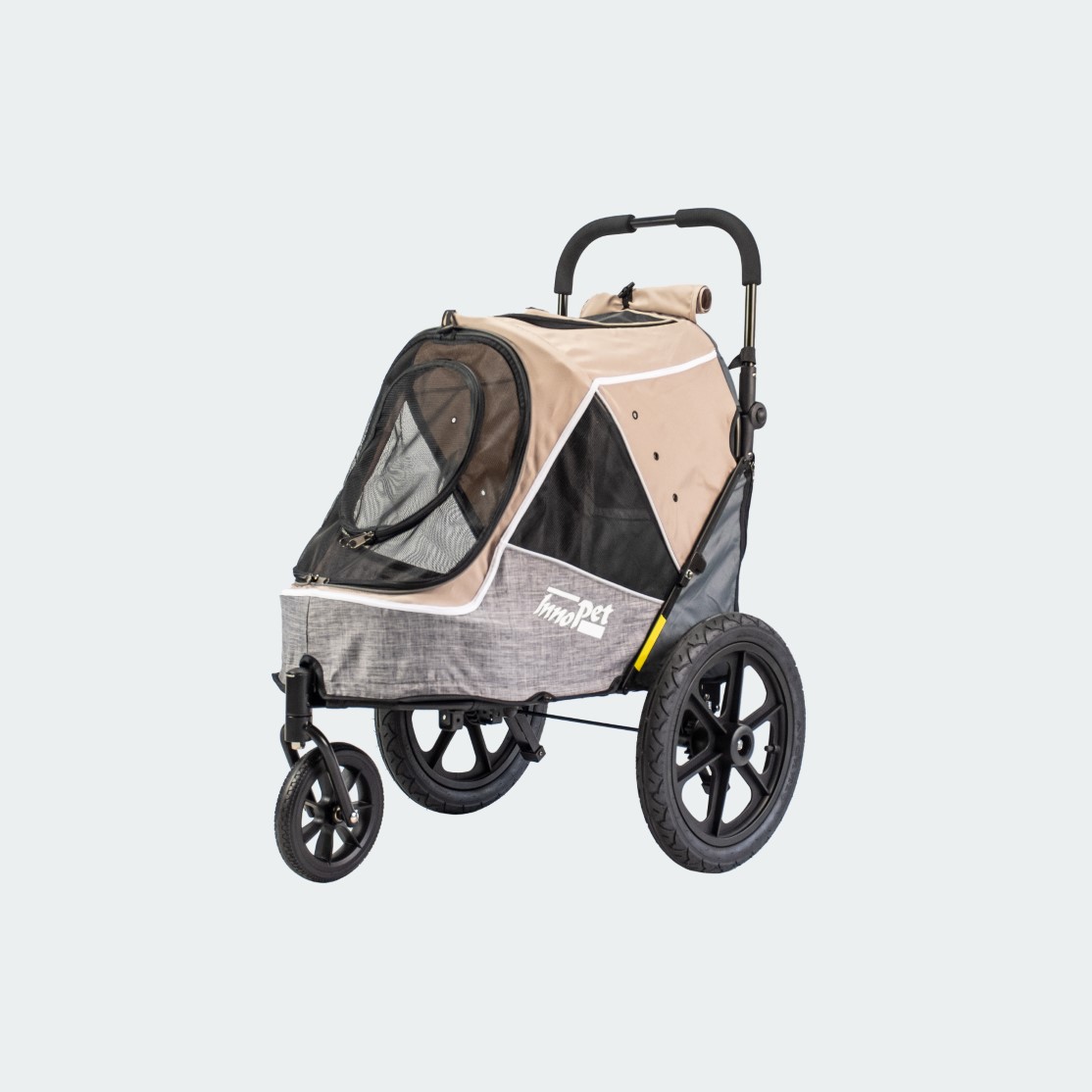 Méďa frčí
Posted on 22-09-2023
by

Jana Štěchová
Super kočárek, už žádné nošení chlupáče v ruce. Vynikající manipulace, do každého počasí se svým chlupatým miláčkem.
InnoPet Sporty Evolution 2
Posted on 17-09-2023
by

Bridget Stanbridge
We wanted to view this dog stroller with our dog to see if it would be comfortable for us and him so we visited dog togs in Dorset. Sara was very helpful and after explaining all the details and trying it out we decided to purchase it. It appears to be very solid and smooth when walking and it is a quality product. This will help our dog when he gets tired of walking as he is partially disabled after being paralysed from the waist down due to a spinal injury. Although this is a bit expensive compared to some but you get what you pay for, as I mentioned earlier it is a quality product and is just what we need. Well done InnoPet.
The perfect choice
Posted on 03-09-2023
by

Ulrike Matula
I have got an old lady and a young dog and so I wanted to find a possibility to take both dogs for a walk at the same time. With the Innopet Sporty Evolution pet stroller I can do that and both dogs are happy. I'm happy too because it is easy to handle and not heavy. It is the best present for me and my dogs and I can truly recommend it.
Fast delevering and a lovely buggy
Posted on 30-08-2023
by

René Lutzen
We like the buggy. We use it when we are traveling with our mobilhome. We had and 6 year old Innopet buggy we gave to a Friend who had a dog With backpain. We are Happy fore the new stroller and our dogs love it. They are with us evrywhere. We are glad fore the Big wheels.
Fantastische, vlotte koets
Posted on 29-08-2023
by

Kelly De Caluwé
Is een hele vlotte buggy die goed bestuurbaar is. Licht om vooruit te duwen en handig om op te vouwen. Ik had ervoor een gewone buggy van InnoPet maar mijn franse bulldog is groter dan de meeste van zijn soort en kon heel moeilijk gaan liggen. In deze sporty heeft hij ruimte genoeg om te liggen en rond te kijken. Vensters genoeg vanvoor om open te doen zodat hij zijn kopje kan buiten steken en heel handig is de regenhoes nu het terug wat regenachtig is. We hebben er al veel plezier aan gehad want nu kan mijn vriend wat meer mee naar buiten.
Vanaf de eerste dag een super aankoop
Posted on 16-08-2023
by

Fam Jaspers
Wij hebben gevoelsmatig de honden buggy/trailer fietskar aangeschaft voor onze cavalier king charles spaniel, omdat we ze graag overal mee naar toe nemen maar zij geen grote afstanden meer kan lopen. We kwamen op het filmpje uit en dachten die fietskar buggy moeten wij ook hebben. We hebben hem aangeschaft en vanaf dag 1 is dit de beste keus die we hebben kunnen maken. Het is een hele degelijke stevige buggy en fietskar die makelijk te hanteren is. En wat het aller belangrijkste is, ons hondje heeft naar wat langzame gewenning haar ideale vervoermiddel gekregen en ontlast van zware inspanning. Kortom een aanrader en een goede aankoop.
Hound Chariot
Posted on 14-08-2023
by

Kevin Humphrey
My wife took our Bichion Frise Snoopy (13 years) out in it for the first time on her own. Upon her return I asked the question. How did you get on? After all they're not the cheapest pet strollers. Her reply was "she loved it", and so it was worth every penny.
Life Changing
Posted on 03-08-2023
by

Tanja
Boris had an emergency spinal operation following an accident. He thankfully regained the ability to walk, however he cannot walk for long periods. The stroller has enabled us to continue enjoying long walks together (both pavement & countryside) so that he benefits with mental enrichment; and physicsl exercise is realised when he gets out of the stroller to enjoy the most fun bits of the walk! The only slight improvement I would like to see on the stroller would be to make the internal safety clips slight larger, so easier to handle and feel more sturdy.
Geweldige mooie ruime wagen
Posted on 02-08-2023
by

Paulien Ensink
Ik had eerst van innopet een kleinere wagen voor 1 hond, en nu heb ik 2 honden dus voor de innopet sport evolution gekozen. Mooie kleur en mooi model. De wagen kan aan de voor en achter kant opengemaakt worden zodat de hond makkelijk in en uit kan stappen. de voorkant kan ook nog verkleind worden door middel van een rits. aan de bovenkant zit ook nog een opening om zo de hond goed in de gaten te houden. Aan de achterkant zitten ook nog zakken om bijvoorbeeld de bijgeleverde regenhoes in te stoppen of poepzakjes. De wagen kan ook achter de fiets maar ik ga hem vooral gebruiken als wandelwagen. Alle 3 de wielen kunnen ook heel makkelijk erop en eraf gehaald worden, en het inklappen van de wagen is ook een fluitje van een cent zodat de wagen snel en makkelijk in en uit de auto gehaald kan worden. Ik en mijn hondjes zijn er heel erg blij mee
Great Buggy
Posted on 06-07-2023
by

Caroline Brain
Looked around for a buggy for our Vizsla that has dwarfism as she is not able to walk very far. Very pleased with the innopet sport it is very sturdy with great chunky wheels. Easy to manoeuvre, lots of openings back, front, and top, with straps to secure our dog. Pockets at the back are useful for storage. Bar to attach to a bike which we haven't used yet. Also a rain cover which will probably be needed with uk weather. Over all an excellent buggy. Recommend.
Gewoon geweldig!
Posted on 03-07-2023
by

Gerja Hofsink
Makkelijk in en uit te klappen, je maakt er makkelijk en snel een buggy van of een fietskar. Een degelijk product, mooi vormgegeven.
Thank you Innopet!
Posted on 11-06-2023
by

Jo Drever-Smith
After much consideration and research on various makes an models, we decided the Sporty Evolution 2 seemed like the best stroller for our needs. The product lives up to the great reviews, very well thought out design and good quality materials put together with care. Our blind dog loves his wheels, he can walk until tired then enjoy the ride taking in all the smells and sounds around him. Only had the stroller for a couple of weeks, but already using for walks and short cycling adventures!
Perfect stroller for all purposes
Posted on 17-05-2023
by

Michael Heidelberg
This is the best type of stroller for my 2 little dogs. I like walking skating and riding my bike. This is now all possible.
Eerste fietskar!
Posted on 12-05-2023
by

Elise
Al even waren we op zoek naar een fietskar voor onze cockerspaniël Otis. Hij weegt 16kg en is best wel groot. Andere fietskarren zijn heel erg lomp en groot. Deze is smal, lang en hoog. Ideaal! Al het materiaal ziet er heel degelijk uit, stevig en mooi verpakt. Duidelijke korte gebruiksaanwijzing met foto's. Otis past er net goed in, moest er nog een maatje groter zijn was dit ook geschikt voor andere middelgrote rassen bv Border Collie. Wij zijn alvast zeer tevreden over onze aankoop. Nu kan Otis eindelijk mee als we met de fiets op stap gaan. Deze zomer gaat de fietskar ook mee op vakantie 😊.
best buggy
Posted on 30-04-2023
by

Georg
Our first Innopet has travelled 750 (!!) kilometers now, went to France 3 times, to the Netherlands 8 times, and always worked greatly. Simply the best— stout, carries 2 dogs (pug and dachshound), waterproof, doesn't topple over, not to wide wheel base, goes even on narrow paths. Our new Innopet has even stronger wheels. 5 stars!
Sportbuggy
Posted on 03-04-2023
by

Susanne Nowack
Bin sehr zufrieden. Lässt sich schnell zusammen oder auseinander bauen. Beim lenken verhält er sich optimal. Mein Hund liebt ihn
Lüftungslöcher
Posted on 02-04-2023
by

Daniela Dettenrieder
Die Lieferung war schnell, komplett und unbeschädigt. Der Aufbau war einfach und die Beschreibung verständlich. Getestet wurde der Wagen bis jetzt nur indoor zur Eingewöhnung. Gerne gebe ich noch einen Kommentar ab, wenn er draußen im Einsatz war. Bis jetzt einziger Nachteil in meinen Augen: es sind seitlich und hinten Öffnungen, die nicht mit Mesh versehen sind. Das stellt für meine Hündin eine Gefahr dar, da hier Bienen oder Wespen reinkriechen können. Und sie darauf allergisch regiert. Und in dem Anhänger kann sie nicht mal ausweichen. Bei der Nutzung als Jogger kann man noch ein Auge drauf haben. Aber bei der Nutzung als Fahrradanhänger nicht. Ich behalte das Gefährt trotzdem. Und lasse mir etwas einfallen. Aber schade, dass ich bei dem Preis nacharbeiten muss. Und die Räder hatten beim auspacken einen extremen Gummigeruch. Aber sonst scheint er sehr stabil zu sein. Und sieht schick aus.
Best buggy for dogs
Posted on 28-03-2023
by

Martin Lilienthal
I bought the buggy for my 13 year old little dog who suffers from arthritis. He can no longer walk long distances. Now we no longer have any problems walking with our dog on dirt roads or on the beach. The buggy is easy to handle and moves very smoothly. You can set it up quickly and fold it up again. Transporting it in the car is no problem. The buggy is easy to store in the car and takes up very little space. The pockets for the smartphone and accessories are practical. The handle is easy to adjust for all people. It also cuts a good figure as a bicycle trailer. The bar for the bicycle can be mounted very quickly. I have had other buggies before, but this one is perfect for my dog!
Voor revalidatie en nog veel mooie uitstappen
Posted on 19-03-2023
by

Wendy Van Hulsel
Ik heb een Maltezer die weldra een patellaluxatie operatie moet ondergaan, hierdoor heeft hij een lange revalidatie die ik zo comfortabel mogelijk wil maken. Doordat de buggy ruim is voor hem kan hij voldoende rusten en na verloop van tijd ook mee op verplaatsing. Zowel om te wandelen als om mee te fietsen is deze buggy/fietskar ideaal voor onze situatie. Danjewel Innopet!
Super balade
Posted on 14-03-2023
by

GONSETH Andrée
Promenade en vélo ou a pied génial
Just brilliant
Posted on 07-03-2023
by

Angela Cookson
What a brilliant buggy for my ageing springer Marley who loves to walk for miles but unfortunately old age and two cruciate ligament operations have slowed him down .The buggy is well made solid and sturdy and Marley is the new kid around town in his posh buggy and Andrea from customer service is a real star prompt reply's to my questions thank you here's to happy strolling
ivm artrose hebben we dankzij ons mooie handige karretje onze vrijheid terug en kunnen we samen gezellig eropuit❤️
Posted on 12-02-2023
by

Sandra van Mulken
Super handig wandelkarretje ook voor ongelijke ondergrond. Stevig en handig in te klappen!! Blij mee!!!!
Elke dag genieten.
Posted on 07-02-2023
by

Bea dams
Het was plazand en wij gaan mog veel afenturen doen veel groetjes van basiel en bea uit geel van belgie.
Innopet® Sporty Evolution Dog Pram
Posted on 06-12-2021
by

Gerard
I walk my dogs everyday. I bought this pram for our pug as she enjoys walks but cannot walk as far as our staffy cross. She loves it, she has a good view of what's going on and I am happy she is safe inside. It packs down very quickly and we take it on our walking holidays within the UK. Both my dogs get inside it whilst we have a coffee at cafés. It is light and easy to manoeuvre. I recommend anyone looking to buy a pram for their dogs should seriously consider this make and model.
Dog pram
Posted on 08-09-2021
by

Adam
I bought this buggy for my dear 17 year old Patterdale Terrier. I wish I'd thought of it sooner as she only got three rides in it before going over the rainbow bridge. She absolutely loved it. Walks were always the best time of day and it was wonderful to share these times again before she fell asleep. The buggy itself was fabulous. Easy to manoeuvre and control. It was sturdy and once I put in Roxy's fluffy blanket cosy too