Reviews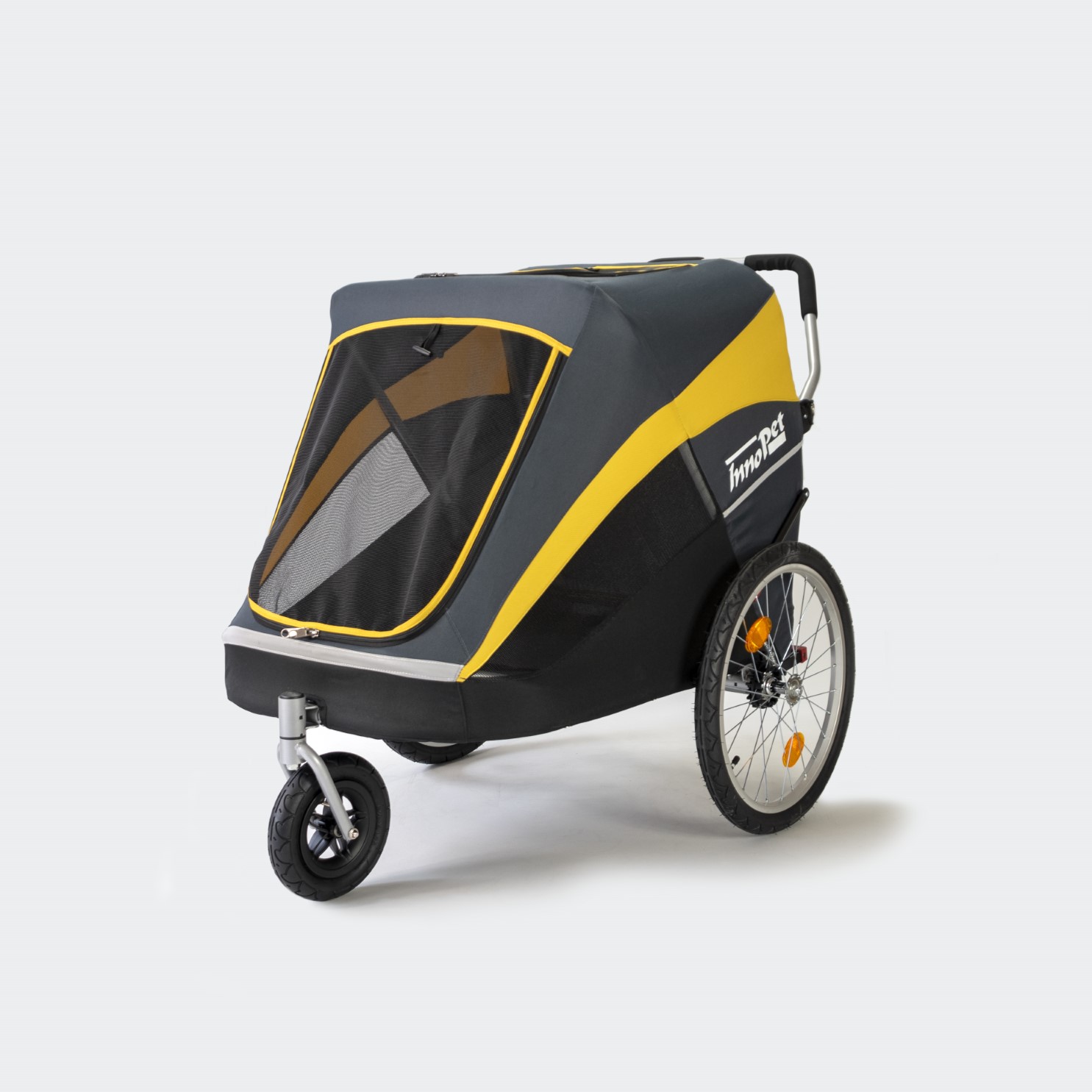 The total package; kwaliteit, comfort en gemak!
Posted on 10-09-2023
by

Tamara van der Wagen
Ik ben erg blij met mijn nieuwe Innopet Hercules 2.0! Hiervoor heb ik een Innopet Sporty gehad. Ook een ontzettend fijne buggy, maar nu mijn Mechelse Herder pup flink groeit is het tijd voor een ruimere buggy. Ik maak graag lange wandelingen en wil dat mijn jonge hond comfortabel mee kan daar hij nog niet zover mag wandelen. Ik was opzoek naar zowel een comfortabele buggy voor de hond met voldoende ruimte om in te liggen als wandelcomfort voor mijzelf. Ik ben uitgekomen bij deze fantastische kar die zich makkelijk laat meenemen in de auto. Die wielen gaan er met het eenvoudige kliksysteem gemakkelijk van af en met twee klikken vouw je de buggy in elkaar tot een compact meeneem formaat. Het is prettig dat de duwstang op twee manieren gepositioneerd kan worden. De buggy is zeer makkelijk te besturen op allerlei ondergronden door de luchtbanden en het zwenkwiel. De hond kan er aan zowel de voor- als achterzijde gemakkelijk in en uit. Het vele gaas geeft lekker veel frisse lucht en kijk mogelijkheden voor de hond, met de regenhoes maak je de kar gemakkelijk waterdicht. Aan de achterzijde vind je nog opbergruimte om wat spulletjes mee te kunnen nemen. Een kar uit een net wat duurder segment, maar iedere euro waard door de kwaliteit, comfort en gebruikersgemak! Ik ben er ontzettend blij mee!
Our 4 Dogs love it!
Posted on 01-09-2023
by

Angelique Deussen
Good quality, no stress. We can all ride The Subway. Trips are easier this wat;)
Great for our ageing husky!
Posted on 28-08-2023
by

Craig Anthony Mackintosh
Everything about this buggy is great from the off-road tyres, collapsible design with removable tyres, to the breathable material to keep our baby cool. My only quarrel would be the price, but you get what you pay for and this buggy is simply the best!
Life changing and that's not an exaggeration
Posted on 22-08-2023
by

Claire Satchwell
My poor girl was really suffering with her walking due to arthritis so after a great deal of soul searching purchased the Innopet Hercules. She weighs 29kg and I find it easy to push. She is able to stretch out nicely (she's a Labrador) it's so easy to manoeuvre the wheels are quick release making it easy to place in the boot of the car. Great sturdy wheels. Two things would make it perfect a cup/bottle holder for for the side of the handle and a hand brake. There is a pocket and two small fabric drinks bottle holders but my girl likes to face me and needs the covers open. All in all thrilled with my purchase and would highly recommend
Great dog stroller
Posted on 13-08-2023
by

Jenny
Our dog has bilateral elbow dysplasia. She was put on rest as recommended by the vet. Our dog was getting depressed resting at home. However now she loves going out in her dog stroller. It is sturdy and east to handle. The brake is easy to use and the handle is easy to put in place and lock in position with pins on each side. It is great that it comes with the rain proof cover. I would recommend to anyone that has a large dog with nobility issues.
Free to roam again
Posted on 13-08-2023
by

Nicki Phillips
My malamute has severe arthritis and has been struggling to walk. We used to spend hours walking about in his younger days, so he has found his deterioration frustrating. The hercules has allowed us to get out and about again so he's not stuck indoors or watching our other dog carry on without him. We began training with the wheels off and introduced it gradually in very short bursts. Within a week we had been on our first trip out. My boot is large enough that I don't have to remove the wheels to fit the hercules in the car, but they pop on and off really easily. I'm impressed with the stability and quality, and pushing even a large dog around is easy. My only complaint is that the front is slightly narrower than the back, so as Loki prefers to lie facing me and it's a bit of a squeeze turning around once in, it makes it difficult to get him in comfortably. If the front and back were the same width this would be perfect. However, I'm sure with practice we will figure it out. He tends to hang his paws over the edge, but it's surprisingly roomy inside, so it's a preference, not a necessity. I'm really pleased with the hercules and we have a lot of possibilities open to us again now.
Hondenfietskar Innopet Hercules 2.0
Posted on 03-08-2023
by

Jolanda Bakx
Super goed te woord gestaan, geweldig bedrijf! Netjes mogen ontvangen! En de kwaliteit van de fietskar is Perfekt! In elkaar zetten stelt niks voor! Ook fijn dat deze te gebruiken is als buggy! Gewoon super tevreden! Gekocht voor onze Duitse herder van 5 maanden oud!
Super Buggy
Posted on 01-08-2023
by

Ute Broghammer
Super schnelle Lieferung. Buggy lässt sich einfach zusammenklappen für die Beförderung im Auto. Buggy läuft leicht, auch auf Spazierwegen bzw. Waldwegen. Habe Buggy für unsere Seniorenhündin gekauft. Sie sitzt gerne in den Buggy.
Well worth the money
Posted on 29-07-2023
by

Steve Caldicott
Has improved the dog walking experience 100%. Easy to use, easy to store and the dog loves it. A great buy.
InnoPet Hercules 2.0
Posted on 12-07-2023
by

Serena Coley
Our purchase of the InnoPet Hercules 2.0 was a great decision after our young staffie was involved in a nasty road traffic accident. We found it to be a good quality product that was very simple to assemble. It's folds easily and has pockets for treats and poo bags. Ours came with a very useful rain cover (stored in the large rear pocket) for unexpected showers. Our dog has a long recovery journey ahead, but the purchase of the Hercules 2.0 has enabled us to take her out frequently each day, keeping her mind stimulated and preventing the inevitable boredom of being kept in at home. She loves being pushed around in it and is safely secured by 2 internal straps that we attach to her chest harness. We put a cushion and a fleece in the base to make the journey over rough terrain more comfortable and when she has fully recovered, we plan to attach the Hercules to a bike so we can go on lots more doggy adventures. When we are out and about, she does look like a bit of a princess sitting in the Hercules, but this just results in lots of chats with people interested in her recovery journey! We thoroughly recommend the InnoPet Hercules 2.0
Geweldig en praktisch
Posted on 28-06-2023
by

William Romme
Zeer goede fiets/wandelkar. Zo kan onze oude trouwe viervoeter die net geopereerd is en slecht ter been, toch lekker mee met de wandelingen of fietstochten.
Great Quality
Posted on 26-06-2023
by

Joey D'Arrigo
Easy to assemble and fold down, sturdy and easy to push, great quality overall!
Excellent
Posted on 14-06-2023
by

Coryn memory
Very tough, easy to put up and down. My lab x staffy loves it, we can get back to long walks again. He'll walk a bit then ride a bit.
The best dog stroller
Posted on 07-05-2023
by

Ian Dennis
Plenty of room for a large dog. Solid construction and easy to manoeuvre. Simply fold and store. Highly recommended.
Excellent Dog Transport System
Posted on 14-04-2023
by

Hazel Coleman
The InnoPet transport arrived promptly, considering it was ordered on a Bank Holiday. It was exceptionally well wrapped and arrived in perfect condition. Perfect size for our 20kg Springer Spaniel plus room for another doggy pal too. Super easy to fold and can be pushed with one hand. Copes remarkably well with wet soggy ground and manoeuvres over rough pebbly ground with ease. On gravel pavements (not smooth tarmac) the front wheel does make a slight rattling sound which can be a tad irritating! It has a solid front swivel wheel so no punctures which is really helpful! Has pockets to store stuff. Brakes are great, although there is slight movement when the dog gets in/out or moves about inside so a nervous dog may need to get used to that. Raincover fits perfectly without any rustling and really love the fact dogs can enter and exit both ends with ease. It is far superior to our previous one (different make). Only thing we would change -It would be great if the top mesh also had an extra flap to put over to keep heat off, so dogs can relax in the shade on a warm day. Fantastic piece of kit which is in constant use. Great purchase, would highly recommend.
Great product
Posted on 04-04-2023
by

Linda Winder
Loved it's sturdiness, and it's guaranteed fir two years, my dog loves going in it, so comfortable for her.
Great buggy
Posted on 14-08-2022
by

Margaret
Bought the hercules for our ageing labrador. She gets in and out so i do the heavy work of pushing her up the hills and she walks on the flatter ground. She seems quite happy when in it and i think she has even more ideas of grandeur now!! Hopefully she will be able to enjoy it for many more years to come. Would recommend to others. Daisy has the typical labrador traits of elbow dysplasia, arthritis and lower back pain.
Excellent stroller for large husky
Posted on 24-07-2022
by

Kim S.
This has been a fantastic experience for me and my 13 year old husky who suffers with hip dysplasia and arthritis in his elbows and shoulders now. So struggles to walk more than 10/15 minutes without getting tired and weak. Tried it out for the first time over the weekend and took to it straight away, and is easy for him to hop in and out when wants. Now looking forward to using it at centerparcs in a few weeks along with future longer trips out together 😁