Reviews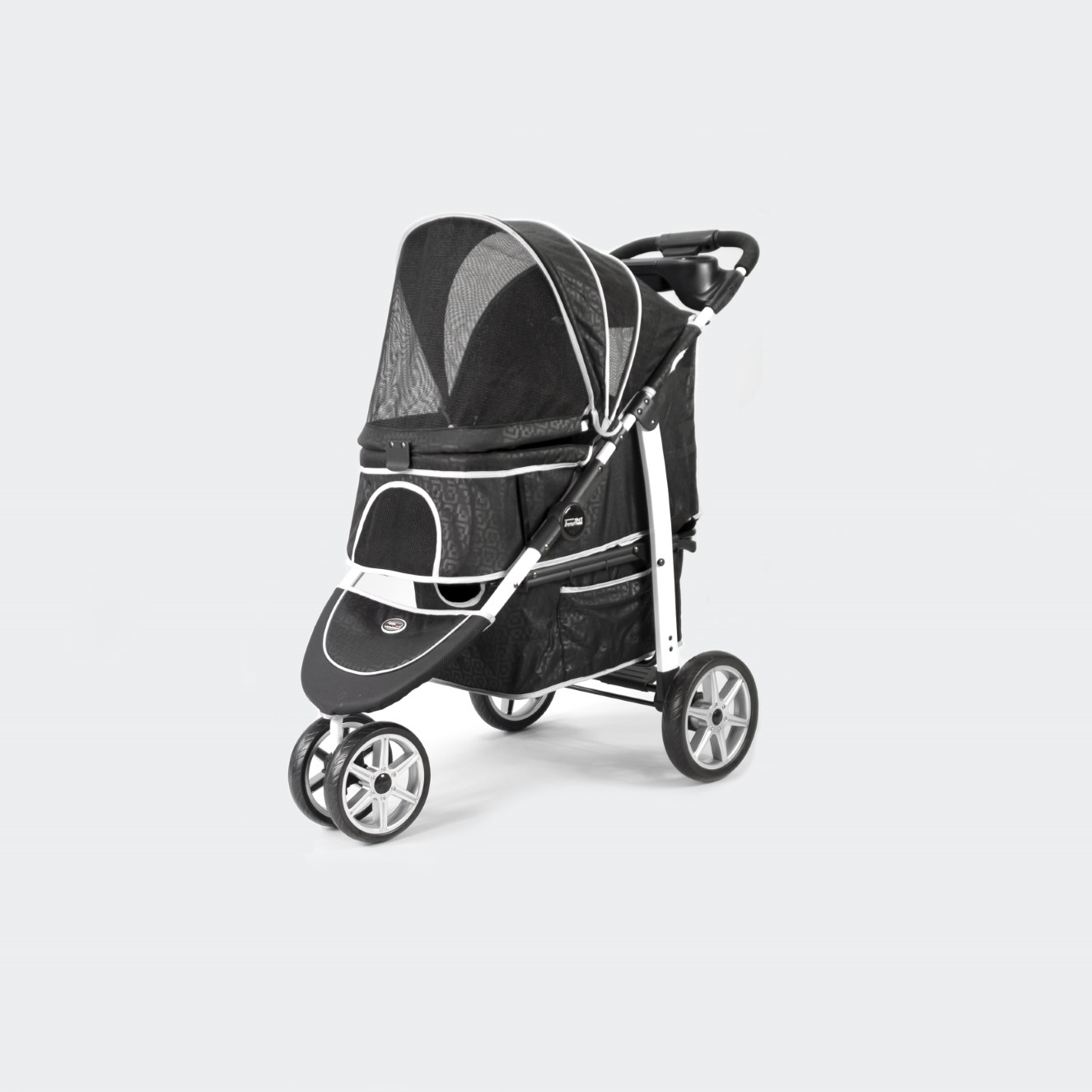 Buggy monaco
Posted on 17-11-2023
by

Diana van Dokkum
De buggy net uitgepakt en in elkaar gezet, de kwaliteit verbaasde me, de buggy voelt erg stevig en is makkelijk in elkaar te klikken. Het opvouwen gaat ook heel soepel. Het mandje onder de buggy is verwijderbaar en te gebruiken als winkelmandje. Ook het dichtkliksysteem lijkt goed te werken. Buggy duwt soepel en maakt makkelijk bochten in mijn huiskamer Enig minpuntje tot nu toe. De achterkant kan niet open geritst worden, nu kan mijn hond niet zelf in de buggy springen, de voorkant is hiervoor te hoog. Ik heb een middenslag poedel van bijna 10 kg die een drukke menigte eng vind en met de buggy kan ze toch mee naar evenementen omdat ze op hoogte zit en zo een beter overzicht heeft en zich veiliger voelt.
Hele fijne stevige honden buggy
Posted on 12-11-2023
by

Fiona Bastiaanse
Ik vind de buggy gewoon perfect
Was makkelijk in elkaar te zetten goed stevig
Posted on 27-10-2023
by

W van brienen
Vindt hem prima
Mooie Innopet
Posted on 21-10-2023
by

Wim Kuling
Mooi product, maar in de instructie om de stroller in elkaar te zetten ontbreken een aantal wezenlijke punten. Met name bij de montage van de wielen. Geen duidelijke beschrijving! Een duidelijkere tekening zou al den hele verbetering zijn. Verder een mooi product.
Zeer goede hondebuggy
Posted on 12-10-2023
by

H van Opdorp
Wij hebben deze hondebuggy van inno pet gekocht modat de andere niet beviel deze inno pet bevalt heel goed duwt op asfalt en in het bos heel steel prima hondebuggy
Geweldig handig in onze vakantie
Posted on 28-09-2023
by

Tineke Calkhoven
Makkelijk in en uitklappen , goede wielen draait soepel mee , handig boodschappenmand of opbergbak. Zou voor ons net iets breder mogen zijn. Wij zijn tevreden
Quality, style & innovative
Posted on 03-09-2023
by

Melissa Kirk
Received well presented, streamlined and no excessive packaging, yet safe and secure: Straight forward, easy to read assemble instructions, put together in minutes. Dogs loved it from the off, comfortable and secure with the two harness attachments. Was purchased following one suffering eye issues; perfect for dachshunds. Easy to steer, looks great and collapses simply and snug. Excellent, large storage / carry case and a useful cup and private storage compartment up top too Great product
Inno pet
Posted on 06-08-2023
by

Jasmin van galen
Fantastisch product echt aan te raden.
Amazing little pet stroller
Posted on 24-07-2023
by

Lesley Thorburn
Perfect fit for my elderly miniature dachsund. So easy to open and collapse and fits easily into the boot of my car. The rain cover is easy to fit and very secure so it does not blow off in the wind. The two adjustable straps attach easily to a collar or harness keeping your pet safely in the stroller. The only criticism that I have, is that the fabric on the base of the pram body is not robust enough and this has worn through where it comes into contact with the floor on closing the stroller (see attached photo).
Stevige hondenbuggy
Posted on 18-07-2023
by

Elly arends
Zeer stevig Makelijk in en uitelkaar te doen! Groote boodschappen mand eronder die je zo openschuift. Zeer te vreden !
Monaco
Posted on 11-07-2023
by

Ewa
Wózek bardzo dobrej jakości. Piękny, bardzo zwrotny. Koszyk rewelacyjny. Dodatkowa oohrona przeciwdeszczowa.
Uitstekende kwaliteit.
Posted on 29-06-2023
by

Joost Drewes
Wij hebben een Innopet Monaco aangeschaft en deze bevalt uitstekend, de kwaliteit voelt erg solide aan en erg mooi vormgegeven. De kwaliteit van de banden, het frame, de materialen die zijn gebruikt van de stof en het mesh vliegennet merk je dat het een goede honden buggy is, die jaren meekan. Wij hebben deze aangekocht voor onze hond diesel, voor de warme dagen in het buitenland. Zodat zijn voetjes niet verbranden op de warme tegels en asfalt, en hij word bijna 10 jaar dus meneer diesel is er erg blij mee 🐶 We vinden het een top product 👍🏼
vrijheid
Posted on 26-06-2023
by

v, Brugman
de buggy rijd heel soepel en is stevig, er kunnen twee caveliertjes in, je kunt zo de winkels in en makkelijk manouvreren net als een kinderbuggy, makkelijk opklapbaar in de auto en best grote boodschappen mand onderin en niet te vergeten de regenkap want regen vinden mijn hondjes niks
Ter aanvulling op mijn 1e reactie
Posted on 26-06-2023
by

Inge
De gebruiksaanwijzing geeft niet aan dat je het voorwiel een bovenkant en onderkant heeft, dus hij moet er dus wel met de juiste zijde opgeschoven worden. Anders schuift hij niet helemaal over de buis en krijg je hem er bijna niet meer af. De achterwielen moet je met veel kracht op de as klikken. Je moet de as dan ook ondersteboven leggen zodat 1 wiel op de grond ligt, dan kan je het andere wiel er bovenop opdrukken. En dan omdraaien om het andere wiel er overheen te drukken. Jammer dat dit allemaal niet duidelijk in de gebruiksaanwijzing stond.
Hundewagen für unseren Dackel
Posted on 17-06-2023
by

Peter Ringhoff
Das man diesen Wagen sehr schnell und einfach zusammenklappen kann und in das Auto legen kann. Außerdem lässt er sich ein schieben. Sehr gut geeignet für einen Dackel.
Mooie buggy
Posted on 09-06-2023
by

Dd
Super blij mee rijdt heerlijk. Makkelijk in gebruik. De stof aan de achterzijde is scheef genaaid en ontzettend storend in het zicht, dat is jammer voor zondure aanschaf. Mandje onderin heel handig, maar gaat heel stroef,moet echt met 2 handen.
Innopet fans
Posted on 02-06-2023
by

Nicky
Wij hebben al de fietskar van innopet. Die prima Bevalt. Ook als loopkar. Nu vandaag innopet Monaco gekocht omdat deze makkelijker mee te nemen is . En handzamer in de stad is.
InnoPet Stroller Monaco
Posted on 30-05-2023
by

Danny Lenaer
Het gebruiks gemak van deze honden buggy is zo gemakkelijk Hij rijd heel soepel en makkelijk manoeuvreerbaar bij het draaien Hij is heel gemakkelijk in en uit klapbaar Wat ook heel tof is als je hondjes in de buggy zitten is het toeklappen van de beschermkap Ik zou deze honden buggy zeker aanraden als beste koop voor je hond(jes)
Super aankoop !
Posted on 27-05-2023
by

Stefan De Winter
Mijn mops is de koning 👑 ter rijk, in z'n nieuwe buggy. Het was liefde op het eerste gezicht bij onze hond. Een zeer degelijke buggy, niks op aan te merken. Stevig en een pareltje om mee buiten te komen. Zeer hoge kwaliteit voor weinig geld.
Geweldig
Posted on 23-02-2023
by

Josien Bos-Jonker
Super fijne buggy. Ik had hiervoor ook een Innopet. Die is zoveel gebruikt dat ik aan een nieuwe toe ben. Deze is ook fijn omdat de kap met gaas omhoog gaat. En een grote ,fijne boodschappenmand. En lichte vering in het voorwiel. Ik weet geen nadelen.