Reviews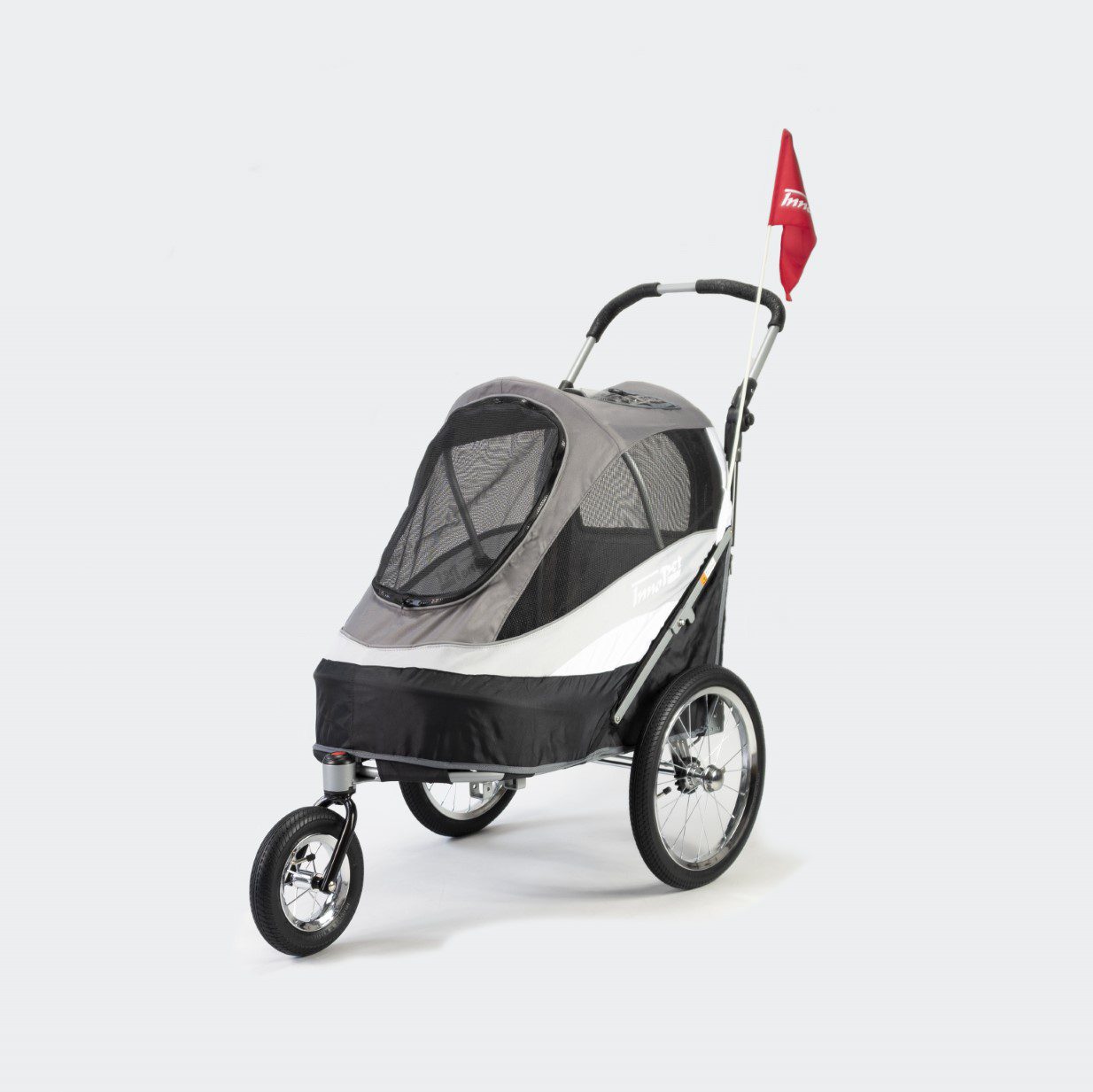 Fantastisk hundevogn
Geplaatst op 02-11-2023
door

Ann Kaalund
Jeg har lige modtaget min nye hundevogn. Super kvalitet som lever op til beskrivelsen. Den er let at samle. Den virker lidt større, end jeg havde forestillet mig, så min Shiba Inu får god plads😄
Easy pack up
Geplaatst op 27-10-2023
door

Anita Dowe
Putting this product together was really simple and fast. It also packs down really easily. Great height for our girls to jump in and out themselves. My only negative feedback would be the size recommendation. Our bulldog is small, only 19kg. It's the perfect size for her. I don't think it would be big enough for a 'normal' size bulldog to fit without feeling trapped. And the liner/padding - it would be great if that was secured by Velcro so it didn't slip but that's an easy addition for us to do. I'd definitely recommend.
Wow amazing
Geplaatst op 27-10-2023
door

Tina Winterbottom
This stroller is just amazing, it has air tyres which makes it easy to push and turn. It is easy to fold up and put in the car. Dog is comfortable and safe in it. Best thing is it doesn't look like a pram with a dog in like most strollers.
Kar
Geplaatst op 23-09-2023
door

Tonnie Koning
Ik vind heel oudere hond vooral wandelen super
Fijne fietskar en wandelwagen perfecte aankoop
Geplaatst op 23-09-2023
door

Eddy van den Berg
Innopet trailer for our Cockapoo
Geplaatst op 19-09-2023
door

Michael & Jo
Super fast delivery, really well packaged and easy to assemble. Amazingly well designed. Our Doggy just jumped straight in and loved it, it's like he knew it was to help his mobility. We can recommend this stylish product, off for a walk now.
Hond blij! en wij blij op de fiets!
Geplaatst op 19-09-2023
door

Ryan
Onze hond wil niet meer alleen zijn en loopt langzaam. Deze mooie stoere kar is een oplossing als we gaan fietsen. Onze hond (20kg) vindt het helemaal leuk. Ook als we ergens snel heen moeten lopen met de hond ,gaat onze hond in de kar mee. Top aanschaf!
De perfecte hondenbuggy/fietskar
Geplaatst op 18-09-2023
door

Marcel de Kruyff
Deze fietskar is werkelijk in twee minuten om te bouwen naar buggy. De beste die ik ooit heb gehad!!!! Echt een aanrader!!
Hondefietskar
Geplaatst op 18-09-2023
door

Nicoline de Kruyff
Een mooie stevige waaraan we zeker heel veel plezier van gaan hebben.
Top kar
Geplaatst op 18-09-2023
door

Marjon
Deze kar is perfect voor een kleine hond. Super makkelijk om te bouwen tot fietskar en andersom.
Fantastic bit of kit for your dog
Geplaatst op 11-09-2023
door

Katherine Webb
I purchased the Sporty Dog Trailer after another brand broke within 2 weeks. The Sporty is easy to get through doorways, is compact, lightweight and safe. The 3 belt harness keeps my French Bulldog in place. I love that there are accessories you can add to transport shopping and your dogs accessories such as water & bowls. 5 stars Innopet!
Clever en compact!
Geplaatst op 09-09-2023
door

Annemiek Visser
Soepel en wendbare hondenfietskar. Makkelijk opklapbaar (er hoeft niet eerst een binnenstang uitgehaald) en weer makkelijk uitvouwbaar en in elkaar te zetten. Voor onze hond van 12 kilo ruim genoeg en ook niet te groot. Hij rijdt soepel.
Excellent service, thumbs up from our dog too!
Geplaatst op 09-09-2023
door

Mrs Helen Byrne
Service: From website, order to delivery, first class. Product: Excellent design, easy to assemble with clear instructions (essentially for us fitting the wheels), The stroller itself is light to manoeuvre, has brilliant visibility, breathable nets, reflectors and a practical pocket for essentials. Our dog has just undergone surgery and therefore on restrictive mobility, this stroller is very welcomed by her, she enjoyed her first outing. We are looking forward to more trips to the beach and woods. This has given us the flexibility to continue to enjoy our walks together.
Innopet/gris
Geplaatst op 08-09-2023
door

DIAZ DEWINTRE
Je suis très satisfait, j'ai reçus mon colis vraiment très rapidement et le montage est très facile, ce qui m'a séduit c'est que la innopet se replie pour pouvoir la mettre dans le coffre et sa c'est un très bon point, maintenant notre petite chienne pourras nous suivre partout.
Good and bad
Geplaatst op 03-09-2023
door

Debbie Benzie
The stroller itself is so easy to assemble and take down. On the whole it is sturdy. The stroller is great for all terrain beaches and pavements. The floor mat velcro is not strong enough to support a dog and my dog pulled this off on the first ride and it will not stay in place. The inner straps, Great if the dog doesn't move. However I nearly decapitated my dogs paw as the dog moves around the straps get tangled up on one another. I attach the straps to the harness and just accordingly but my dog is a wriggler..i had the three straps secure to the harness and the lead at the back for my own safety. The front was down but the dog climbs out with a paw and when tried the other paw goes top heavy then it's a mission to release the strap. These inner straps need redesigned. There is no chance you could use this with a bike as I feel your dog needs to be supervised at all times. My dog is an older English bulldog but trying to get her in the stroller is a nightmare. I've resorted to not using the inner straps as I do not feel they are safe enoughand my dog looks out the top I have the harness and lead and she is older and less likely to get out that way.
Sporty dog trailer deluxe
Geplaatst op 15-08-2023
door

Chantal
Mijn 14 jarige seniorhond kan nu weer mee met lange wandelingen. Hij geniet zichtbaar. Deze buggy is stevig en kan over alle paden rijden. Wij zijn tevreden!
Life changing dog trailer
Geplaatst op 14-08-2023
door

Victoria Walters
After lots of research we decided on the IInnopet Sporty. It arrived super fast within 24 hours from Doggy and Moggie and we are blown away by the quality of the product. Within minutes it was assembled. All quick release fittings are robust and easy to use. The bike carrier attachment also assembled quickly - it was very straightforward to fit the bracket to the bike and simply attached to the carrier. We then used it with Louis who was very happy; he was secure and comfortable, and using it with the bike felt very safe and sturdy. Very happy, and can't see any negative points. This is life changing for Louis our French bull dog who can now enjoy being outside again since his legs deteriorated - trips to the beach and park are back on!! Plus it folds away really compact into the boot of the car. Cannot recommend this product enough.
Hondenbuggy
Geplaatst op 11-08-2023
door

Ria
Geweldig hondenbuggy lekker licht makkelijk inklapbaar en kan ook nog achter de fiets gewoon goed product
Innopet Sporty Review
Geplaatst op 04-08-2023
door

Rachael Thomas
After receiving our Innopet Sporty stroller recently for our 16 year old Spaniel we were keen to try it out. We loved the fact that it is easy to put together when it arrived and also very light weight when constructed. It's easy to push around and has a great door at the back for her to climb into it and out. We loved the zipped viewing area at the front too and top which can be unzipped if you need to let your pet look out or reach in to give them treats etc. We had to use this the first few times to reassure her as she had not been in a stroller before but she soon got used to it watching the world go by. We liked the fact that it comes with a rain cover and also has a useful pocket at the back to store things in like bags and treats etc.. it was the perfect size for her and we put a blanket in there for her too. The wheels are robust and are very much off road and can handle grass and other bumpy terrain. The only thing we can think of construction wise that we would improve on is to make the zips slightly more robust but if we look after it it will be fine. Everything was perfect about the product and is so much more superior in quality than other dog strollers. Our dog loved being in it once she had got used to being in there. We will be taking it camping with us so that she can enjoy the holiday in her old age with us the stroller has made it possible to be mobile on trips out and holidays and make more happy memories with her. Thank you Innopet!
Changed our lives
Geplaatst op 25-07-2023
door

Jonathan Warhurst
We love everything about our new Innopet Sporty Dog Stroller We can now do as the video shows take Tommy with us once again on long walks It means no more leaving behind when we go out. Tommy has started with arthritis, still able to a small walk and then he jumps in the stroller After an hour he was relaxed happy and lying down where in previous ones we have tried especially with the small wheels he stood up all the time. It has worked out so well he is now coming to France with us. We spent hours looking at and discussing with people the correct stroller I discarded Innopet on price After looking at others, I realised you get what you pay for The quality, the ease of use, the trendiness are first class and worth every Penny Do not do what we did and spend time on research… just pay for it and enjoy immediately
Queen Lady op stap
Geplaatst op 22-07-2023
door

Eddy Vaerman
Lady (onze cavalier king charles van 10 jaar) zat apetrots en rustig te kijken tijdens haar eertse wandeling met de wandelwagen. Ook interessant is dat er een hoes tegen regenvlagen bij zit en dat het ook aan de fiets bevestigd kan worden. Ze zal hier nog veel plezier aan beleven nu ze wat ouder wordt.
Op stap met Innopet
Geplaatst op 19-07-2023
door

Leonie Rebel
Wij gaan vaak op stap met onze 2 hondjes Nana en Terror,en ze mogen dan mee in de wagen van Innopet. Deze wandelwagen is absoluut een aanrader, wat zijn wij blij met de wandelwagen. De wandelwagen klap je makkelijk in en neemt hem makkelijk mee. Hij tijd geweldig soepel en achter de fiets is het ook fantastisch om je vriendjes mee te vervoeren. Inmiddels de pup van mijn dochter ook mee genomen in de wandelwagen van Innopet. Ik kan hem iedereen aanraden
Hundeporsche
Geplaatst op 19-07-2023
door

Barbara Greshake
See Buggy ist sehe fit zu schieben und zu lenken. Da ich groß bin ist es sehr vorteilhaft sassan den Bügel zum schieben verstellen kann
Premium product
Geplaatst op 16-07-2023
door

LesLey Lane
Firstly I must just tell you... our 16 year old pooch loves excitement and the great outdoors, the Innopet 'Sporty Dog Trailer is just the perfect solution to giving back life and excitement to your dog, it has to ours. A premium product, "yes", from the opening of the boxed package to the assembly of the buggy. Truly happy with this product however when it came to attaching the towing arm onto the rear axel of my electric bike, the hole on the attachment was not big enough to fit onto the thread. I have sent a request to Innopet, as to whether the company may have a slightly larger bracket to fit my bike. Otherwise, a good product. Thank you.
Handige fietskar / buggy
Geplaatst op 15-07-2023
door

Nini Rayen
Zeer tevreden met onze nieuwe fietskar! Handig in gebruik Gemakkelijk op te vouwen. Zeer goede veering voor het comfort van de hond..Snel omgevormd naar buggy!
Inno Pet
Geplaatst op 15-07-2023
door

Petra Van der Vloet
Wij zijn zeer tevreden. Na enkele andere opties te hebben gehad is dit de perfecte oplossing en 2in1 . Ons hondje Balou kon niet wachten om zich er in te nestelen. Echt een aanrader. Stevig en degelijk! Zijn prijs waardig.
Fabulous stroller
Geplaatst op 13-07-2023
door

Helen McAllister
Bought this stroller for our French bulldog who can't walk any great distance. Really impressed by the great quality and ease of assembly. Next day delivery was also a big bonus! Have tried cheaper alternatives but our dog never felt comfy in them but he loves this one.
Innopet Sporty Trailer
Geplaatst op 11-07-2023
door

George Craig
The trailer arrived very quickly and was really easy to assemble. I popped some air in the tyres and my aging Daschund and I were off out on an adventure. Our boy has always been very active and since he is getting on a bit and his back got bad, we have missed taking him for a walk in the fields behind our house. The Innopet Sporty is a game changer, he's comfortable and he has perked up with short excursions to have a sniff. I can't wait to try it out with the bike.
So good we bought another one
Geplaatst op 09-07-2023
door

Dave Sudden-Wheatley
This is our second Innopet Sporty Dog Trailer. The first one is on it's last legs after 7 years and around 8000 miles across all terrains. Only wish we could have replaced the wheels and bearings for a more reasonable price. However I'm happy because my best friend can still come for a walk with me. Fantastic product.
Amazing
Geplaatst op 08-07-2023
door

Elizabeth Galland
The innopet trailer is brilliant. I was a complete sceptic thought it would be idiotic rubbish . My partner said lets just try one . So i gave in and we got one . My god its the best thing we did for our elderly dogs . They absolutely love it . They walk for a bit and then god back in the buggy . We have now gone back to being able to take our fur babies everywhere with us again. It folds down fits in the car easily. They seem very comfortable and sometimes just lie down and go to sleep. It is so manoeuvrable its brilliant. Well vented . The rain cover fits perfect and is absolutely brilliant. I love the hand to push with is height adjustable. Best thing i have bought to help my fur babies. Its amazing and im a complete convert .
Magnifiek
Geplaatst op 02-07-2023
door

Monica Dhondt
Onze 2 twee honden vinden het zalig ! Er is plaats en uitzicht genoeg zodat ze alles kunnen zien! De buggy loopt soepel en licht! Heel tevreden zijn wij !
A winner for our little winner
Geplaatst op 02-07-2023
door

Jayne Howle
The Innopet sporty trailer deluxe is perfect for our Sealyham terrier puppy for taking him to shows. And on our first outing it proved a winner getting across the terrain at Bodenham Arboretum and provided shade on a sunny day. It is ideal for grooming with the attachable grooming table and puppy Wilbur won a first at the Midland Sealyham centenary show! I was recommended the Innopet sporty dog trailer by another Sealyham terrier owner and at the end of a show I could see how easy it was to assemble and put away especially if I am on my own. It is not too heavy yet feels safe snd secure once set up. It provides somewhere safe for the dog to wait and the design makes it easy to move whatever the terrain. I am also looking forward to attaching it to my bike for some future adventures. Despite being a newcomer to dog showing my puppy has qualified for Crufts 2024 so I have the perfect trailer to keep my much loved pup clean and get him from the car parks at the NEC to the exhibition halls. When I first set it up my cat couldn't resist getting in it. So it is popular with the whole household. I am delighted with my purchase and would ready recommend it to others.
Second stroller day one going back
Geplaatst op 01-07-2023
door

Robert Wallace
The first arrived in a bashed up broken box that had been taped together. All the parts had clearly been out of the box. Hassle to return. Second arrived today. The box has again been opened. The top fabric has been sewn together poorly causing a tightness in the middle where it touches the frame and it's loose either side. I have to say for a £300 dog pushchair I expected quality but both have been poor and no better than if I bought a half the cost pram elsewhere. Second also going back.
My old dog walks more
Geplaatst op 30-06-2023
door

Lara Smith
Having the sporty buggy in our life's has invigorated our 10 year old British bulldog to walk more and it has improved his mood , we didn't realise how depressed he was till we saw the excitement back I him when he could be taken to his favourite places again and down to the river to play. For Diesel we have replaced the inner mat with a rubber bath mat for him to have a better grip whilst in the buggy, that relaxed him as he was slipping around.
Ideale uitkomst voor lange wandelingen!
Geplaatst op 29-06-2023
door

Remke Stegeman
Onze lieve Joey van 15 jaar oud wil nog steeds graag mee op de lange boswandelingen met onze andere drie honden, maar houdt het niet zo lang meer vol. Met deze dog trailer kan hij mee, en hoe! Hij zit er als een koning bij, kijkt lekker om zich heen en trekt zich niets aan van het gehobbel door mul zand, dwars over grote boomwortels of heuvels op en af. Gelukkig kunnen we tot nu toe elke ondergrond aan en genieten we volop! Heel erg blij met deze wagen!
Sporty stroller for a sporty springer. (Old one 🐕)
Geplaatst op 21-06-2023
door

Stuart Rogers
After reviewing a number of dog strollers online. We saw the " Innopet Sporty". A good site with the required information to make a decision. We drove 200 kilometers with our springer (Pepper 16 years old) to take a look. I was extremely impressed by the simplicity and ease of use. A very well made and constructed design. My dog was completely at home and relaxed. I have taken him on a few walks now and can only say... Great. Many thanks from me (and Pepper 🐕).
freedom again
Geplaatst op 19-06-2023
door

Mrs Susan Coleman
We really liked the look of the pushchair, Poppy our Cocker Spaniel was very keen to try it out even before we got the wheels on. She can't go out for walks at the moment as her Arthritis is playing up in her hips hopefully it wont be long before she can go on walks again.
Pet's push chair
Geplaatst op 19-06-2023
door

Olena Kostiuk
I love this push chair so much! It is very good quality and size, looks so modern, also the wheels just perfect to ride. Thank you very much!
Fantastic!
Geplaatst op 19-06-2023
door

Monika Pilat
I recently purchased a dog buggy and it has exceeded all my expectations. The sturdy and durable design, along with its lightweight and maneuverability, make it perfect for those long walks. The buggy's spacious interior and excellent ventilation provide a comfortable and secure space for my dog during our outdoor adventures. Its convenience, easy setup, and extras like storage compartments and safety features are great. Highly recommend this to anyone looking for a reliable and well-designed dog buggy!
A Godsend 😁
Geplaatst op 14-06-2023
door

Mrs Aileen Toynton
I've been looking to purchase a dogshow trolley for my Cocker Spaniel for over a year. Everything else was too bulky for my car & too awkward to push around. This is fabulously lightweight and very manoeuvrable. It fits easily into my Mini & is simple to dismantle. The dog & my showbag fit easily inside & my jacket hangs on the handle. Just love it 🥰
Dog slowly getting used to the trailer
Geplaatst op 12-06-2023
door

Alison Wallace
Excellent service, and a good quality product, suitable for potholes, and can store it in hall.. It's too narrow for our small collie to turn round- and you need to turn round to step out! Our dog is very arthritic, which makes it impossible to turn in a small space. But -with loads of treats -she is climbing in + allowing us to lift her out backwards. I love the trailer, and wish I'd bought it years ago when she was more agile :)
Fantastic Trailer
Geplaatst op 07-06-2023
door

Carrie Maclean
We bought this doggy trailer for our oldest Westie. He's 12 and, although still fit and healthy, he's slowing down. We enjoy hillwalking and doing long walks with our younger Westie and so this 'Chariot' (as we call it 😂) means that we can all still go together. It's great - sturdy (but not too heavy) and can go over most terrain. It easily fits in the car as it folds up and the wheels come off too if required - all very easy to do. Love it and so does our dog. Oh, it also attaches to a bike which will also be great!
Mooie degelijke wagen
Geplaatst op 04-06-2023
door

L van den heuvel
De wagen is mooi en degelijk en als wandelbuggy ook soepel om mee te lopen. Wat men ook verwacht voor deze prijs. Het monteren op de fiets verliep helaas niet zo soepel zoals op de gebruiksaanwijzing, maar dat is schijnbaar fietsafhankelijk. Bout op de e-fiets te kort waardoor hij niet bevestigd kon worden. Fietsenmaker ingeschakeld en nu wel gelukt, dus van start! Minpuntje is de bevestiging van de fietsstang zodra men gaat wandelen. Staat nergens uitleg op de gebruiksaanwijzing en wat we ook proberen past er niet onder terwijl in de winkel verteld werd dat hij daar moest komen. Verder mooie wagen waar we veel plezier mee gaan beleven!
Topklasse met de Innopet hondenfietskar
Geplaatst op 31-05-2023
door

Ageeth Oonk
+ stevig + geschikt voor elk weer + om te bouwen tot wandelwagen + veel opbergruimte + smal voor achter de fiets + bevestiging om hond vast te zetten + hond kan voor, achter en boven zonder gaas kijken + comfortabel
Brilliant and worth every penny
Geplaatst op 25-05-2023
door

Shelley Wilson
I forked out for this, so I could take my frenchie with back problems on holiday to Cornwall. It's brilliant.. Effortlessly trundles over every terrain I took it.. Including the sandy beaches, gravel, bumpy grass cobblestones and woodland walks.. It's pretty heavy to lift but super easy and quick to assemble and disassemble.. And most of all my dog loves it.. It's like her mobile bed 😍😍😍Well worth the investment 😍😍🐶
Queen Ds chariot
Geplaatst op 21-05-2023
door

Sally Hardwick
My King Charles spaniel loves being on walks with us in and around Derbyshire. Due to her age and mobility we decided to buy a dog pushchair so she could still enjoy being out with us. After looking and researching loads we decided on the innopet sport trailer this was a little more expensive than we 1st wanted to pay. However we are thrilled by it. Very sturdy and easy to handle.
A carriage fit for a King
Geplaatst op 18-05-2023
door

Lisa Cardy
I quickly needed a way of transporting my Pekingnese Wilfred to a dig show at the weekend. I ordered Thursday and stroller with grooming table arrived Friday! Very easy to put together and did the job perfectly. The grooming table was perfect to make him show ready. Good news is Wilfred won a reserve and a first place.
einfacher Aufbau
Geplaatst op 16-05-2023
door

Monika Möller
schnelle Lieferung, einfacher Aufbau, leicht zu händeln, passend für einen Cavalier King Charles Spaniel, besitzt leider nur einen Heckreißverschluss (schöner wären zwei), Liegematte sehe dünn, kann man mit Klettverschluss befestigen, doch beim Einsteigen des Hundes verrutscht die Matte nach vorne, das Fahrerlebnis muss noch getestet werden, da es gerade erst aufgebaut wurde
Amazing service
Geplaatst op 13-05-2023
door

Teena gordon
From ordering to delivery absolutely spot on, hassle free, packages tracked and traced. Very pleased with my buggy.
Vrijheid!
Geplaatst op 12-05-2023
door

Lieve Gielis
Wat een opluchting voor ons beiden. Zowel voor mij als mijn hondje Loulou. Zij is namelijk verplicht tot benchrust na een herniaoperatie. Eindelijk kunnen we nu samen genieten van frisse lucht en krijgen we wat afleiding doorheen de dag. Super handige en stevige hondenbuggy. Rijdt zelfs soepel door veldwegen. Zo blij mee.
Direct een succes voor mijn katten 👍
Geplaatst op 11-05-2023
door

Natasja van der Reest
Omdat mijn katten niet los buiten mogen lopen heb ik de Innopet Sporty Dog (Cat) Trailer gekocht. Op deze manier kan ik met mijn twee katten toch samen genieten van de frisse buitenlucht en de natuur. De buggy is stevig, rijdt heerlijk soepel door de grote luchtbanden en is veilig afsluitbaar zodat mijn liefjes niet kunnen ontsnappen. Door de mesh aan alle kanten kunnen ze heerlijk om zich heen kijken in hun eigen beschermde holletje. Met een vachtje onderin staat dit garant voor een succesvolle en ontspannen wandeling ♥️
Innopet Dog Trailer
Geplaatst op 08-05-2023
door

Annabelle De Cabooter
Super tevreden over deze koets voor honden. Mijn teckel is geopereerd aan een hernia en mag geen verre wandelingen meer doen. Zo kan ze toch nog mee met ons en genieten van een uitje! Stevig model dat heel vlot rijdt op alle ondergronden! Aanrader!
Der Mercedes unter den Hundebuggys
Geplaatst op 07-05-2023
door

Martin Krück
Super einfach aufzubauen, tolle Lenkfähigkeit und die Höhenverstellbarkeit des Griffes ist perfekt.
Sehr gute Qualität. Einfacher Zusammenbau.
Geplaatst op 07-05-2023
door

Christian Brümmer
Das Produkt ist von hochwertiger Qualität. Der Zusammenbau gestaltet sich einfach und schnell. Vielen Dank.
First class travel for a english bulldog
Geplaatst op 27-04-2023
door

Miles taylor
Five minute assembly straight out of the box ( would have been quicker if I didn't have to go to shed to get pump ). Assembled it looks good not bulky like some of the competition easy to push with the dog in, and having a adjustable handle means its comfortable for everyone who pushes it . The dog loves it even using it as a bed . I personally feel that it nicer than the competition and seems well put together
Een fantastische buggy/fietskar, heb de vorige meer dan 15 jaar gehad !
Geplaatst op 20-04-2023
door

Smet Elisabeth
Heb de vorige identiek model meer dan 15 jaar gehad! Prachtige fietstochten mee gedaan en kilometers lange wandelingen, boottochten, overal, leuke restaurantjes altijd welkom als de honden erin zatten, alsook op drukke plaatsen voor hun relax! We kunnen ni zonder!!!
Super comfort and plenty of space for two
Geplaatst op 20-04-2023
door

John Søndergaard Nielsen
Very easy to sample and to manage. Good space for our two Bischons. They enjoy every trip in the trailer after a long run on the beach. We would gladly recommend this trailer.🐾🐾
Fantastic stroller
Geplaatst op 18-04-2023
door

Carol Smith
I received my innopet sporty today for my 13 year old springer spaniel. It was so easy to assemble with just the wheels to pop on. Having tried other types of dog stroller before I was so happy with the build quality and how solid it felt when pushing it. It folds down to a small size so storing it is easier than other brands which you need a lot of room to store. My old girl was so happy to be pushed around her favourite walk and I was happy that I knew she was safe and secure. A bit more expensive than other brands but we'll worth the money.
Super comfort and plenty of space for two
Geplaatst op 15-04-2023
door

John Søndergaard Nielsen
Very easy to sample and to manage. Good space for our two Bischons. They enjoy every trip in the trailer after a long run on the beach. We would gladly recommend this trailer.🐾🐾
My sporty free Wheeler
Geplaatst op 11-04-2023
door

Cindy Hermans
Op mijn 18e krijg ik mijn eerste sporty free wheeler en kunnen we er met het lekker weertje wat extra kilometers op uit! Prachtig, super makkelijk op te plooien. Handig en zeer comfortabel 👍
Love it, Love it, Love it!
Geplaatst op 10-04-2023
door

Abigail Merrell
Perfect for springer type dogs and slighlty larger. Easy to open up and fold down. Light and easy to maneuver. Great off road, we have taken it into the forest, on the beach and no trou le at all, the adjutable height handle means it's good for different height people. Easy to get a 12kg dog in as no need to lift them. Handy little pocket at the back for leads/poo bags etc. Just perfect really.
Freedom
Geplaatst op 29-03-2023
door

Paula Marriott
It does exactly what it says on the tin
Fantastic item
Geplaatst op 22-03-2023
door

Tracy Stevenson
Brilliant dog stroller & great company.
Looks great, easy to assemble
Geplaatst op 08-03-2023
door

Jac Kilby
I would have preferred one half the size
Super easy and light weight
Geplaatst op 07-02-2023
door

Marina
We were looking for a convenient stroller for our dog. We've tried several other strollers before but they weren't easy to fold and were pretty heavy. But the Innopet sporty dog trailer ticks all the boxes. Bonus points for the adjustable push bar. Our dog is well protected and has a great view. We love it, this one is a keeper!
A new lease of life for our elderly pup
Geplaatst op 01-04-2022
door

J.C.
This has been a fantastic purchase. Harry, our 14 year old Tibetan Terrier loves his chariot! We are able to go out for long walks in the country and when he has had enough he hops in and sits happily while we push him up the hills etc. If we stop for coffee he prefers to stay in it so he can snuggle up - to him it's a mobile den. We love how easy it is to pop the wheels on and go. It's easy to manoeuvre and feels very robust over all kinds of terrain. Without it we would be very restricted in what we could do as Harry hates to be left alone for any length of time - now he can come with us for a full day out!
Hetti's chariot
Geplaatst op 08-02-2021
door

Jeremy
Hetti being a more mature Springer can't get around as well as she used too, (also she recently had an operation!), we looked around for a suitable stroller & liked the look of the InnoPet Sporty - it also had good reviews. The stroller arrived very quickly & was simple to assemble, it took a few days & lots of treats to get Hetti used to it. But now she hops in & out no problem, it's extended our range no end without overtaxing Hetti 🙂