Reviews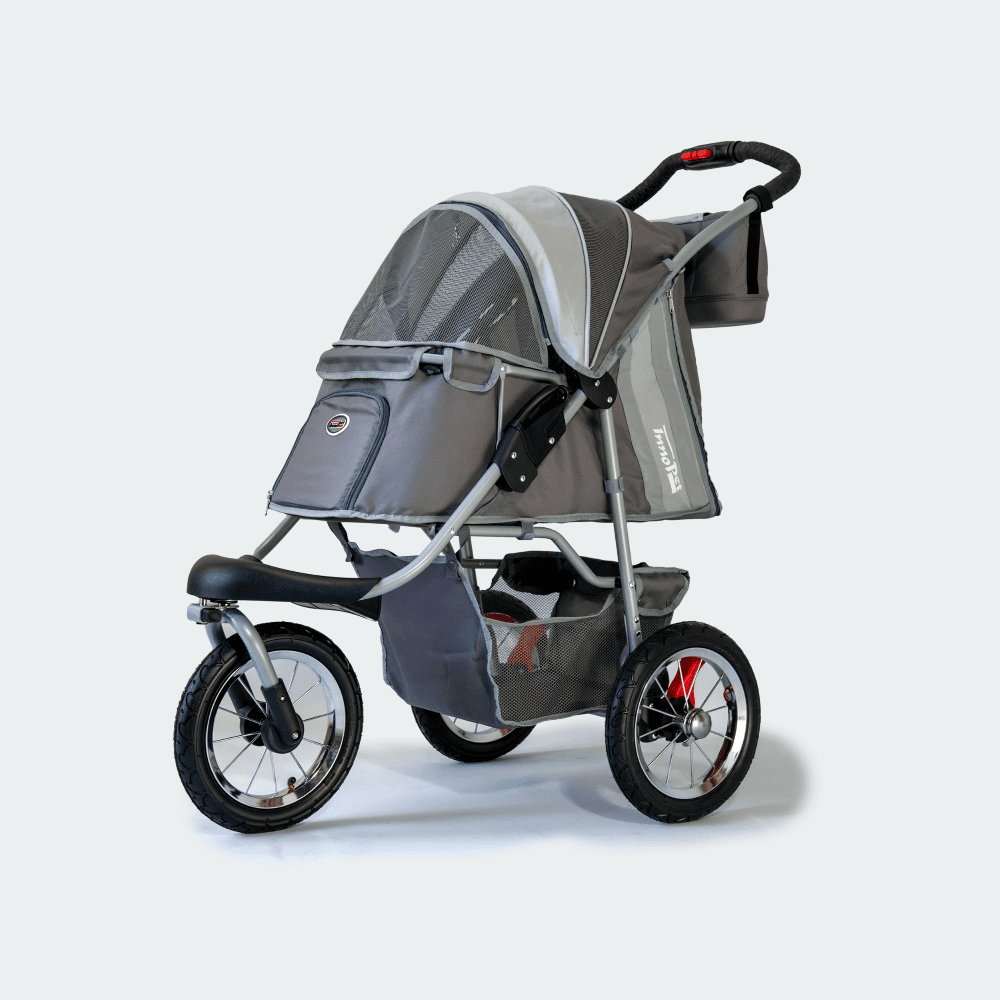 Hondenbuggy
Geplaatst op 17-09-2023
door

Carla Demedts
Mooie en stevige buggy. De hondjes voelden zich direkt op hun gemak. Lang getwijfeld maar nu heel blij met mijn aankoop
Excellent stroller
Geplaatst op 26-08-2023
door

Susan Lines
Delighted to receive my item with regular delivery information, the strollers very good quality and so easy to set up and a bonus is it's quick and easy to fold down to go in boot of car, my dog liked the experience of being able to sit and lay down comfortably in stroller. I like everything about the stroller, quality, style, colour and pleased I went for this make after comparing with other makes, price was higher but definitely worth the extra. I honestly cannot say I have a dislike about the product. I am well pleased with the stroller and I know my dog is enjoying the ride, I had to pump the tyres a bit but that's not an hassle, it made the ride more comfortable for dog. I think a lot of thought went into design of product and know our four legged friends so well, hence a great design.
Life Changer!!
Geplaatst op 22-08-2023
door

Kathryn Graham
Love the style of this stroller and the fact that my 17 year old Lhasa Apso can accompany us on adventures. He has always led an active life until two years ago when he lost his eye to glaucoma, then he became blind in his remaining eye. We usually carry him but he is very heavy. The stroller allows him to come with us and he gets out for a sniff now on all walks. A real life changer for this wee guy - wish I'd got it sooner!
Poodle Transport
Geplaatst op 30-07-2023
door

Pamela Wardle
First big trip out today with buggy. Various terrains and rainy. Performed well over bumpy grass, tree roots, rocky paths. Rain cover did its job. And the little man enjoyed a cosy sleep in it while we had a coffee. A well built good quality item. Would recommend.
Fantastic quality
Geplaatst op 22-07-2023
door

Zoe miller
Great traking from order to delivery came faster than was expected. Easy to put together easy to fold great to use quality great hight for pushing goes anywhere with no problem gliding over cobbles and the beach plenty of room foe two small dogs would highly recomend
Absolute Begeisterung
Geplaatst op 22-07-2023
door

Kerstin Schwenke
Der Buggy ist richtig toll durchdacht, alle Einzelteile sind sehr hochwertig. Einfach zum zusammenklappen, auseinanderklappen, sehr wendig und leicht zu schieben auch Bergauf. Wir sind total begeistert, auch unsere Hündin die normal eher skeptisch ist.
Beste hondenbuggy
Geplaatst op 21-07-2023
door

Paul Speijers
Na 12 jaar onze eerste Innopet buggy vervangen door de nieuwste versie op luchtbanden. Alle ruimte van de oude werd gebruikt door onze hondjes. Vol vertrouwen dat deze nieuwe ook zolang mee gaat.
Fantastic!!!!
Geplaatst op 18-07-2023
door

Lucy Boakes
Easy to order, quick delivery and a sturdy product! Exceeded expectations!
Excellent product, excellent service.
Geplaatst op 18-07-2023
door

Wendy Stowe
Personal service, with a great opportunity to try various innopet models.
Gave our dog a new lease of life
Geplaatst op 16-07-2023
door

david else
This is a great quality dog pram, which has given our dog a new lease of life. She is 13 years old and has spinal problems at the moment and the vet has told us to walk her no more than 20 minutes. She got to the stage where she hated her walks as she would have to walk on the pavements. We bought this pram so we can push her to the parks and other grassed areas and get her out at her favourite places instead. We have also just come back from a holiday in Northumberland and the pram was amazing on all the walks we did on different surfaces ( haven't tried it on sand yet!!) The pram is really easy to push and was very rugged on the walks we did. If we didn't have this pram for our holidays we would have had to leave her at home or just gone out for a twenty minute walk then back to the cottage, but it was an absolute pleasure having her in the pram whiles we did our hiking. The most important thing to mention is that she loves it and is really happy to be pushed around in it for hours. This pram is one of our best purchases and recommend it to anyone considering one, it's really easy to put up and down and the back wheels come off in seconds to make it easy to transport by car.
Game changer
Geplaatst op 11-07-2023
door

Julie Brown
Our dog Maggie is 15, happy & full of life but after about 20 minutes of walking she needs a rest so lately we have been very restricted where we can go with her. We are surrounded by the beautiful Yorkshire countryside & live close to the beach so we looked for a stroller we could use on rough hillside tracks, in woodland & on sand. We went with the comfort air eco & it's lived up to our high expectations. We now have much more freedom to take her when we go out for long walks. The stroller is incredibly sturdy with larger wheels which can cope with all sorts of terrain. Folding it couldn't be easier & there's plenty of space for Maggie to lay down….most of the time she prefers to sit & up to get a good view of the world. The mesh insert in the hood enables me to still see her when the hood is up which is good. Maggie is very pleased with the stroller…as are we 😀
Should have brought it months ago!
Geplaatst op 09-07-2023
door

Hannah Durrant
I've hesitated over the decision to buy a pushchair for a while now. But my dogs apparent pain and refusal to walk more than 15 mins (he has joint problems) made me realise that I would have to either give up days out with him or injure my back carrying him when he couldn't go any further. Two options I wasn't keen on! The innopet is perfect, the air tyres are ideal for different surfaces, tarmac, grass and mud have all been easy to maneuver over. I was a little embarrassed taking it out the first time but honestly it's well worth a few bemused looks. I don't have to leave my dog at home when I fancy a walk and we can now join the family for holidays away as we're no longer limited by his ability. It's extremely easy to assemble and has fantastic amount of storage for all the usual dog necessities! Best of all it has a foot operated break which other brands don't. It feels sturdy and safe but is also light enough to push one handed. I regret not getting it sooner but so look forward to our new found freedom and hopefully many years of adventures together. Raincover isn't included which is the only flaw in an otherwise perfect product!
Top buggy
Geplaatst op 07-07-2023
door

Jutta Daniels
Very fast delivery, top quality.👍😊👍
Innopet Comfort Air ECO
Geplaatst op 28-06-2023
door

Lorraine McMullon
The Rolls Royce of Dog strollers; smooth, silent, comfortable and elegantly stylish. Our pup (14 year old Border Terrier) loves hers and sits like royalty being chauffeured out and about. Wish we had upgraded to an Innopet stroller sooner, you get what you pay for. Would have no hesitation in recommending.
Practical and Easy
Geplaatst op 19-06-2023
door

Cinthia Guadalupe
Even though a little small foe my 10 kg maltese mix, it is def easy to get around and also really good at any terrain
Perfect for my Kira
Geplaatst op 08-06-2023
door

Ilaria Tomasini
Very good dog pram: good materials, well done and with big, strong wheels. My 16 years old Kira loves to go for walks in it.
De aanrader voor iedere hond!
Geplaatst op 04-06-2023
door

Joyce De Knock
Deze Innopet eco air aangeschaft omdat na een zware rug blessure ons hondje zijn achterpootjes niet altijd meer goed mee willen en we zijn vrijheid toch willen behouden. Na aankomst vlot in elkaar gestoken, een heel goede kwaliteit, stevig en mooi afgewerkt! Ons hondje onmiddellijk kennis laten maken, 3uur durende uitstap gemaakt. De buggy is zeker goedgekeurd! Hij stimuleert ons hondje zelf om meer en verder te wandelen met rustpauzes in zijn chique buggy! 10 op 10 wat ons betreft! Bedankt Innopet voor het creëeren van comfort op wielen voor onze viervoeters.
Innopet is great
Geplaatst op 28-05-2023
door

Christina Visan
I just ordered the Innopet dog buggy and I am very satisfied. It gives me a lot more flexibility in my daily live.
Amazing.
Geplaatst op 25-05-2023
door

Ashton willson
I ordered the pet stroller and I was shortly emailed to tell me that the colour I had ordered would take a little longer to arrive as it was being restocked, however, there was a different colour available and would be shipped immediately. I excepted the different colour and after a few days it arrived. The box was good thick cardboard and the stroller was folded neatly inside. Setup was an unbelievably easy process, took me a little under 3 minutes to put together. The instructions are extremely clear and well wrote out with clear picture guides. Overall an a great unboxing experience. Our pug loves it now he can go on longer walks with us, we have put a little bit of extra padding in as it's not super plush, but that's the only thing.
Innopet een aanrader.
Geplaatst op 22-05-2023
door

Katleen Capelle
Zeer tevreden over de hondenbuggy. Zo kan mijn senior terug van alles genieten op wandeling.
Toller Buggy fürs Gelände
Geplaatst op 14-05-2023
door

Nicole Klein
Mit diesem tollen Buggy kann unser Spondylose Hund wieder überall dabei sein. Der Buggy ist super leicht, lässt sich sehr schön fahren und ist Dank der großen Luftreifen absolut Geländegängig. Ich würde den Buggy immer wieder kaufen.
Good, sturdy pet stroller
Geplaatst op 01-05-2023
door

Louise Harrison
I bought this as a replacement to a far inferior per stroller, which had been used so much during various recovery phases for my two Westies that the wheels eventually fell off! I always wished I'd bought something more robust and better suited to the terrain and paths we generally walk on. I'm very happy with this purchase, 15 year old Tilly is quite happy in it when she gets tired on a longer walk or when we're milling about at a busy market or similar. It's very comfortable and the manoeuvrability of it with the front wheel unlocked is excellent. It feels very robust and I have no fear of her tipping out, as happened once or twice previously. Consequently it is a bit heavier than our old one but not so much to be a problem. Obviously it's more pricey, but I'd certainly recommend it.
Very Nice buggy for our little dog.
Geplaatst op 28-04-2023
door

Willy Pauwels
Very nice, comfortable buggy for our Kaninchen dachshund. He's blind and he cant't walk anymore like he used to. Now he can join us again while making long walks in the woods. It drives very easy: we happy, little dog happy... Can't be better. Thank you for the quick delivery!
Excellent Piece of Kit!
Geplaatst op 28-03-2023
door

Lawrence Phillips
This is a quality stroller with so many little features that make it extremely User-Friendly. A lot of thought has clearly gone into it. The large pneumatic wheels and tyres are ideal for rough terrain and we can recommend it highly. We bought the stroller for one of our dogs in particular as he suffers from a form of dysplasia and sometimes tires quickly when out walking. Our other dog (a black, largish toy poodle) decided she wanted to try it and wouldn't calm down until we put her in. See our photo. It's proven to be a great purchase and we would definitely buy again.
Heart melting
Geplaatst op 28-03-2023
door

Lisa Hollis
I have an English bulldog called Ruby who likes to walk but can't keep up with my other bulldog Reg. I choose this particular stroller as we walk off road and go to the beach. It arrived today and we went for a walk over the fields. Ruby made it clear when she wanted to come out of it and then made no fuss to go in. Reg and I were able to keep a fair pace and distance and Ruby was also able to enjoy. We're now back at the caravan and Ruby is in the awning not wanting to leave her stroller…..heart is melting.
Very solid, worth every penny
Geplaatst op 05-11-2022
door

vance1
Good solid dog stroller. Perfect for our old lady. Now she can walk (or ride) along with the other dog. Also "offroad" just fine thanks to the large wheels. Feels very solid and hasn't had any problems with it either.
heel erg tevreden
Geplaatst op 28-08-2022
door

Laurie Verhulst
Erg tevreden over deze stevige wagen! Gelijk het regenscherm bij besteld! Hoop er veel plezier van te hebben, mijn hondje vind het in ieder geval al helemaal geweldig. in en uitklappen in 1 handeling is ook super fijn en wagen loopt goed. heel blij!
Ideaal voor mijn Franse Bull
Geplaatst op 16-07-2022
door

Patricia
De InnoPet Comfort Air Eco buggy is een uitstekend product voor hondenbezitters. Ik heb deze gekocht voor mijn Franse bulldog en ik ben zeer tevreden met de aankoop. De buggy is zeer comfortabel voor mijn hond en geeft hem de rust die hij nodig heeft tijdens lange wandelingen. Ik vind dat er één klein nadeel is aan de buggy: het heeft maar drie wielen in plaats van vier. Hoewel ik denk dat vier wielen misschien comfortabeler zouden zijn, moet ik erkennen dat de buggy met drie wielen zeer goed te manouvreren is. Ik heb geen problemen gehad om de buggy rond te draaien wat soms een uitdaging kan zijn met andere buggys met vier wielen.