Reviews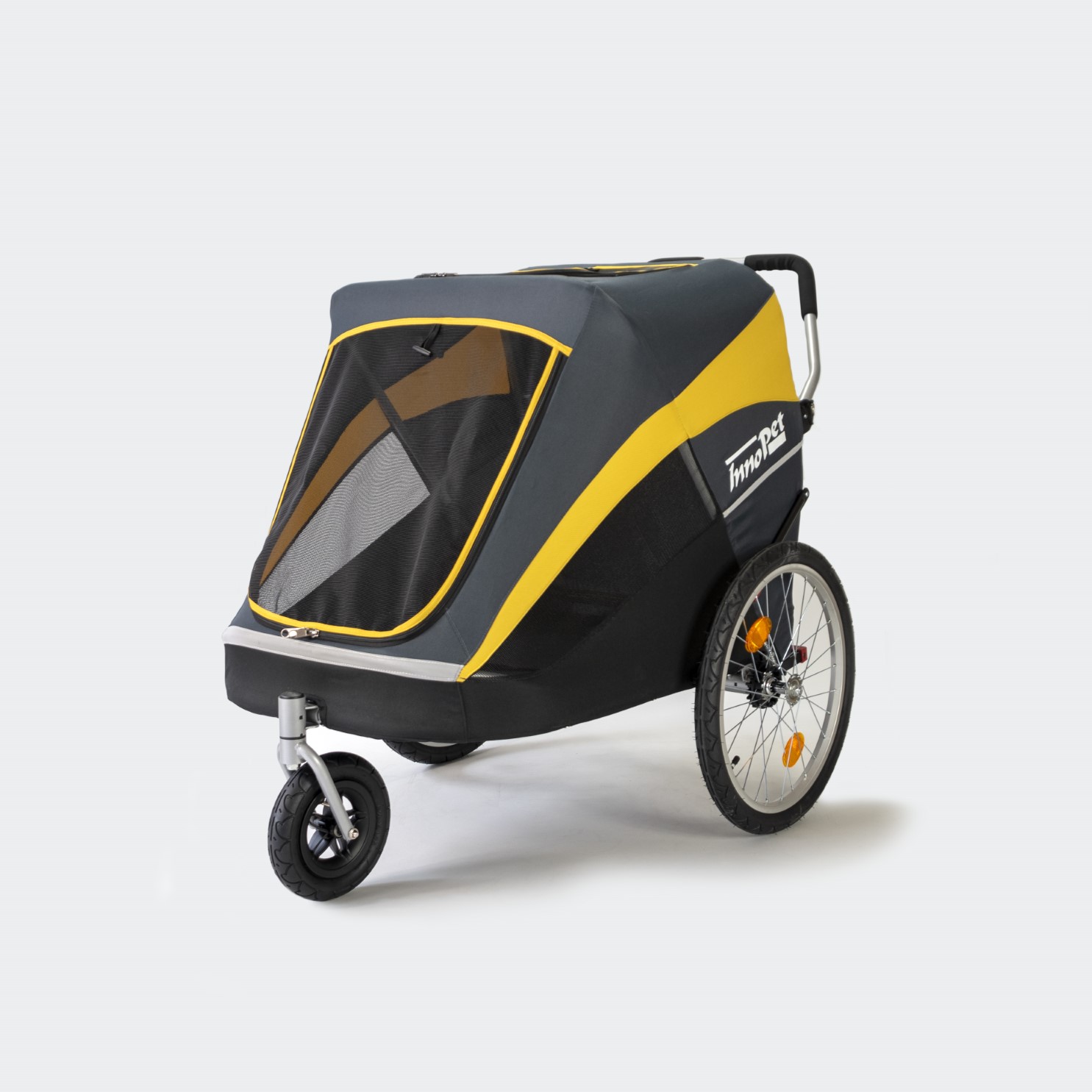 Very good Buggy
Posted on 30-09-2023
by

Kerstin Klingenstein
Very easy to handle, good quality!
Ideale buggy
Posted on 15-09-2023
by

Astrid Nijsen
Een superbuggy waardoor onze Herder van ruim 11 jaar nog heerlijk mee kan, daar waar ze anders niet meer mee kan lopen!
Terug samen genieten!
Posted on 12-09-2023
by

Erard
Dankzij deze Innopet Hercules kan Obelix, onze twaalfjarige golden retriever die minder te poot is, terug ten volle meegenieten van de wandelingen met het gezin! Ongelofelijk plezant om te zien hoe Obi onmiddellijk in het wagentje klimt en er rustig geniet. Dit wagentje is comfortabel, stabiel, vlot te besturen en in een oogwenk gemonteerd! Een super aankoop en aan iedereen aan te raden! Hij gelukkig, wij gelukkig!
Perfect pet car for our bikes
Posted on 05-08-2023
by

Wesley Pieterse
Our 2 dogs love to go inside the Innopet buggy. We use it behind our bike. It is comfortable for the dogs. One of them puts here head out of the window in top. People love it when they see it.
Goede aankoop
Posted on 23-05-2023
by

Van Eynde Erwin
Wij hebben een Chow Chow met helaas elleboog-dysplasie. Grote wandelingen doen met hem is moeilijk. Wij zochten even naar een passende buggy voor hem en kochten uiteindelijk deze. Snel en gemakkelijk te monteren en demonteren ( om gemakkelijker mee te kunnen nemen) Vraagt wel even tijd om te wennen maar prima aankoop => wij zijn zeer tevreden, Xiam ook
Beste fietskar-buggy in een
Posted on 20-05-2023
by

Hans den hoedt
Wij hebben een andere merk fietskar gehad, nu bewust voor combi buggy- fietskar om vanaf dag 1 je pup te kunnen laten wennen en vervoeren. Top merk en zo makkelijk in elkaar te zetten. Een aanrader
Brilliant! Top! ⭐️⭐️⭐️⭐️⭐️
Posted on 15-05-2023
by

Silvia Barbier
🇬🇧 Very easily maneuverable. Very easy to open up and fold. Very sturdy and well made. My Golden Retriever smiles all the way during his rides and particularly loves the open top! 🇳🇱 Zeer gemakkelijk wendbaar. Heel makkelijk open en dicht te vouwen. Zeer stevig en goed gemaakt. Mijn Golden Retriever lacht de hele tijd tijdens zijn ritten en houdt vooral van de open kap! 🇮🇹 Molto facilmente manovrabile. Molto facile da aprire e piegare. Molto robusto e ben fatto. Il mio Golden Retriever sorride sempre durante i suoi giri e ama particolarmente la capote aperta! 🇩🇪 Sehr leicht manövrierbar. Lässt sich sehr leicht auf- und zusammenfalten. Sehr robust und gut verarbeitet. Mein Golden Retriever lächelt während seiner Fahrten immer und liebt besonders das offene Verdeck! 🇫🇷 Très facilement maniable. Très facile à ouvrir et à plier. Très solide et bien fait. Mon Golden Retriever est toujours souriant lors de ses tournées et aime particulièrement le toit ouvert! 🇪🇸 Muy fácilmente maniobrable. Muy fácil de abrir y plegar. Muy resistente y bien hecho. ¡Mi Golden Retriever siempre está sonriendo en sus paseos y le encanta especialmente la parte superior abierta!
Fijne hondenwandelwagen voor labrador
Posted on 02-05-2023
by

Elles te Poele
Een hele handige honden wandelwagen, onze labrador Cilla 27 kg heeft een blessure en nu kan ze toch overal met ons naar toe. Het is een stevige wagen, rijd heel licht, duwen kost weinig moeite. Een heel makkelijk mechanisme om de kar in te klappen en makkelijk mee nemen. Onze hond ligt heel relaxed in de wagen, ze is er blij mee en wij ook!
Top fietskar
Posted on 26-04-2023
by

Jan van den Berg
Tweede paasdag de fietskar gekocht en de dag erna zijn we op vakantie gegaan met onze Schotse Collie en Sheltie Iedere dag gefiets door weer en wind dus de kar werd goed getest Heel ruime kar met opbergruimte Heel stabiel zelfs met harde zijwind De kar fietst licht We hebben meerdere hondenkarren gehad maar dit is echt een Topper!!!!!!!
Super fijne buggy voor zowel wandelen als fietsen
Posted on 03-01-2023
by

Martin
Hele fijne wandelbuggy voor onze 11 jaar oude Berner Senner met artrose. Hij past er net in, als je echt een hele forse hond hebt, is deze kar ook nog te klein. Maar de kar zelf is echt super. Super stevig, goede kwaliteit en hij kan ook nog eens achter de fiets. Al maken we daar niet veel gebruik van. Hij rijdt fantastisch en onze hond ligt er graag in.
Great stroller for large dogs
Posted on 08-06-2022
by

Reece
I highly recommend this pet stroller! It has exceeded my expectations in every way. It is spacious enough for my large dog (who is about 3ft long, not including her tail), and is made of durable materials including a rubber base that is easy to clean. The partial mesh sides provide excellent air flow, and the stroller itself is lightweight and easy to maneuver. It also has a convenient folding feature and a brake that keeps it securely in place. The cup holders and storage pouch in the back are great for longer walks, and the wheels provide a smooth ride for my furry friend. Overall, this is a fantastic choice for any pet owner looking for a high-quality stroller.
Almost perfect but too small for my Shepard
Posted on 25-05-2022
by

Daisy
This stroller is well constructed and easy to put together and maneuver. It's almost perfect, but unfortunately it doesn't quite meet the needs of my 11 year old 75 lb Shepard, who has a bad hip. She needs to be able to lay down inside the stroller, and unfortunately it is too short for her. However, if your furry friend is on the smaller side and more compact, they will probably love this stroller.
Absolutely recommended!
Posted on 02-03-2022
by

Summa
Very well made, easy to transport, folds well, wheels go on and off quickly. Fits in the back of the car nicely. My dog gets in and out without problems. Love it!
A lifesaver for me and Maggie
Posted on 19-06-2021
by

Alice B.
This pram is giving me and my dearest Bobby the quality of life and freedom to play. I have to make the most of the time we have. Bobby loves it and when he's had enough he goes to the back and gets in quite happily.