Reviews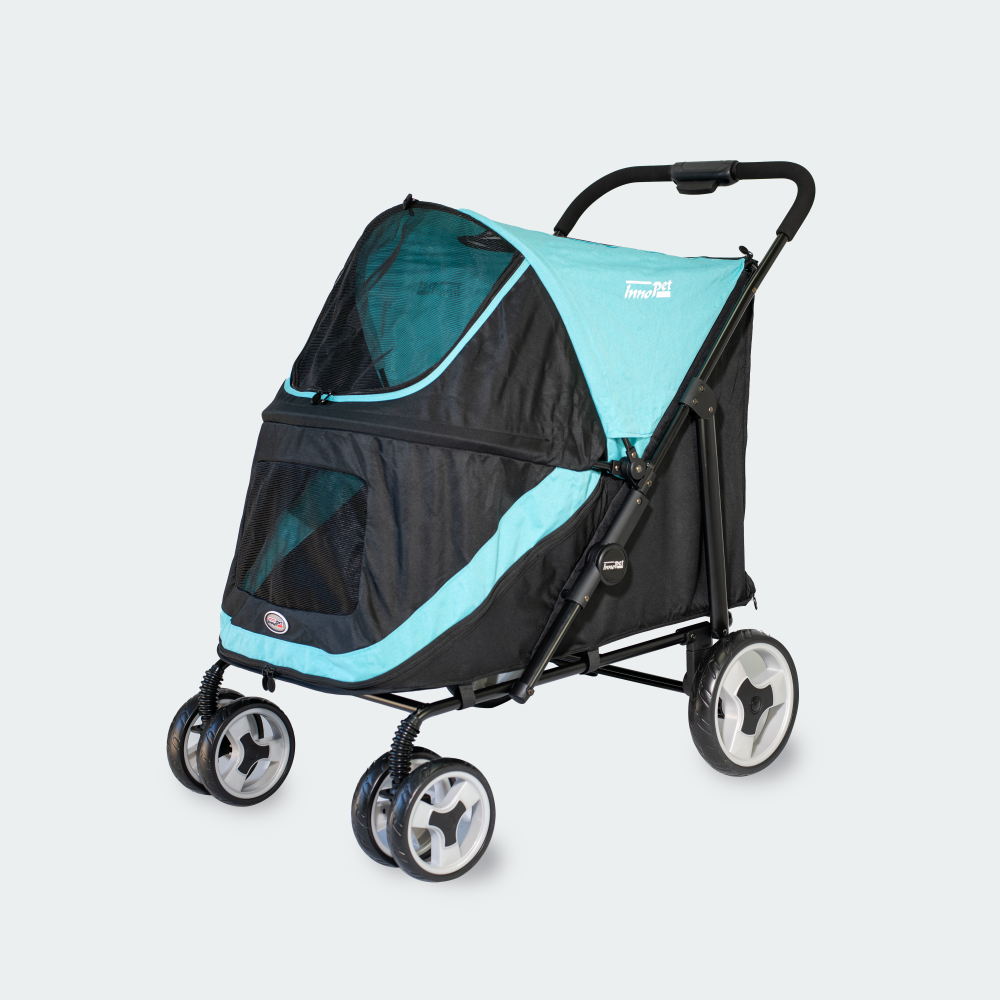 Excellent choice for recuperating Labrador
Posted on 16-11-2023
by

Elaine Storey
We have a Labrador who is on bed rest after knee surgery. This allows us to take her (and us!) out for walks still whilst she recovers. A good fit - she is a smaller size Labrador. We added a soft cushion to lie on . She certainly seems happy to be out and about and n the stroller . Best on pavements and solid paths but we have been on rougher park paths as well . Easy to put up and take down . A good buy .
De perfecte buggy voor meerdere honden of zwaardere pups
Posted on 05-11-2023
by

Sylvia Brokke
Heb eigenlijk al jaren innopets gehad maar heb nu een Basset Hound pup die nog niet te veel mag lopen maar wil wel wat verder met mijn andere hondjes. Dus daarom is deze ideaal met een max gewicht te dragen van 50 kilo
Best Innopet
Posted on 01-11-2023
by

Sylvia Brokke
Na verschillende Innopets te hebben gehad, viel mijn oog op de mamut. Heb een Basset hound pup die straks 35+ kilo gaat wegen en dan is deze wel super fijn. Door de lage instap kan ze daardoor makkelijk erin en eruit stappen zelf. De innopet is ook makkelijk in en uit te klappen. En als extraatje een regenhoes gratis. Al met al super blij met deze.
Game changer
Posted on 09-10-2023
by

Linda Craig
I purchased the stroller for my 15 year old English Springer Spaniel. He suffers from arthritis and finds it difficult to walk very far. This has changed not only his life but also mine. We are both enjoying getting out and about again and visiting our favourite parks. We've gone out on the bus too. Paddy is very comfortable in his stroller and sometimes even has a wee nap. I wish I had bought it sooner. Even in the rain, with having the rain cover Paddy stays dry and comfortable. Thank you so much for making walks enjoyable again for both of us 💕
Top buggy groot genoeg
Posted on 20-09-2023
by

Christel Vercauteren
Hondjes zijn er zot van liggen er veel in nu hebben ze eindelijk rust plus veel plaats
Top Hunde Wagen
Posted on 13-08-2023
by

Daniel Bläuer
Absolut genialer wagen in top Qualität ich hatte noch nie so eine. Guten Hundewagen mit gratis Regenschutz wau top gefedert der Hund fühlt sich mega wohl er geniesst die tollen spatziergäne
Large and robust
Posted on 05-08-2023
by

Jóhanna Lindahl
Spacious and good quality product. I like the front wheels - makes it easy to move around. Easy to remove fabric for cleaning.
Splended
Posted on 30-07-2023
by

Gerda Kuijs
Im and my dog are very glad with the InnoPet Mamut. It drives very light, even my dog weihgts 30 kilo. Very glad with the car.
Fabulous Pet Stroller
Posted on 05-07-2023
by

Nigel Marsh
I like the size and strength of the stroller and it is so versatile. It folds easily to put in the car and the wheels can be removed for extra convenience. We received excellent service from Doggy & Moggie and delivery was first class. I have had an excellent experience.
Simply perfect
Posted on 04-07-2023
by

Kate Farmer
We've had a dog stroller for many years and it's allowed us to carry on walking with our elderly dogs. However technology has really moved on in those years and it's reflected in the design and quality of the Innopet Mamut that we have just purchased. It's clear that you get what you pay for- the stroller is sturdy, manoeuvrable, spacious and so easy to assembled and use. Our dog hasn't had a chance to use it yet- he's currently having surgery on his cruciate ligament- but we know he's going to be able to get back into the world again in his new wheels! Thank you. We are excited to use it.
A game-changer for my old boy
Posted on 28-05-2023
by

Sarah Willans
My 12yr old dog has some arthritis in his elbows and some days doesn't feel like walking too far, but I have to walk to my allotment at least twice a day to attend to my chickens and he is not a dog who can be left at home alone. The Mamut has completely solved the problem. It's sturdy, well made and comfortable and my rather nervy dog took to it straight away, against all expectations. Now he enjoys his walk until he's tired, then rides the rest of the way in style! He even chooses to stay in it for a sleep sometimes when we get home. Thoroughly recommended.
Excellent stroller
Posted on 22-05-2023
by

Jon Croad
I wasn't sure if my dog would take to it, but he did really well. There is enough space for home to lay down too.
A Very Happy Old Boy!
Posted on 22-05-2023
by

Sophie Nicolaou
My 15-year-old staffie loves his stroller. Best thing I've ever bought him!! I was sceptical at first as I didn't know how he'd take to it but surprisingly he was very happy to lay in there after a short walk. It has so much space for him to stretch out, turn around and change positions. The stroller itself is super lightweight but very sturdy it can hold up to 50kg!!!! He has a nice little pouch to hold his goodies at the back. The rain cover slips over the handlebar very easily. It's low enough for him to step into perfect for when his legs get sore. It was easy to put together, I didn't need any tools. I'm delighted with my purchase and recommend purchasing from Doggy & Moggie who delivered the next day free of charge.
SUPER AANKOOP !!!
Posted on 10-05-2023
by

Anita Jongen
Ik hen erg blij met mijn aankoop van de Innopet Mamut. Mijn 2 hondjes hebben alle ruimte en kunnen zelfs naast elkaar liggen. Ontzettend gebruiksvriendelijk, de wagen is zeer makkelijk in te klappen. Zeer aan te raden dit product !!!
Aanrader
Posted on 08-05-2023
by

Henri Jacobs
Na een beetje geduld voor de levering, een geweldig product. Een aanrader voor alle dierenlief hebbers . Dit zonder te overdrijven.
Hele fijne wagen
Posted on 02-05-2023
by

Linda Philips
Ik ben erg tevreden over de wagen. Hij is comfortabel, rijdt goed, is qua omvang gemakkelijk berijdbaar, bijvoorbeeld ook in winkels. De wagen klapt in één eenvoudige beweging in en op diezelfde manier klapt hij ook weer uit. Geen bouwpakket bij de auto met losse wielen, maar klap en klaar. Door het gewicht en makkelijke inklap gebruik ik hem eenvoudig in mijn eentje samen met de hond. Wil je toch de wielen er vanaf halen dan klikken de achterwielen heel gemakkelijk, indrukken is los en klik is weer vast. De zwenkwielen vind ik iets lastiger los gaan, maar dat hoeft hier eigenlijk nooit
Super enthousiast 😀
Posted on 01-05-2023
by

Ann Wolfs
Super leuke praktische hondenbuggy !!! We hebben een schapendoes van 13 jaar oud die pas geopereerd is en ook moeizaam kan wandelen. We wisten niet of Joppe het wel leuk zou vinden. Hij is echter super enthousiast! Hij wandelt wat, gaat terug in de buggy zitten, kijkt genietend rond en geeft aan wanneer hij terug wilt stappen. Wij zijn super blij met deze aankoop. Nu kunnen we terug langere wandelingen doen met Joppe en zelf ook genieten van de natuur. Dank jullie wel 🙏🏻🌷🐾
Life Changer !
Posted on 30-04-2023
by

Samantha Watson
There is nothing I do not like about my InnoPet Mamut. After ordering it arrived the following day and was very easy to assemble. I was immediately impressed by the quality of the stroller - everything was solid and very well made. My Patterdale Terrier is 17 and although he is still fairly active he does get tired on longer walks due to arthritis. He absolutely loves the InnoPet Mamut and I wish I had bought this 1 year ago. It has been a life changer for my dog and I - we can both enjoy our long walks now. It's a fantastic product and definitely worth the money.
Room for a little one too
Posted on 19-04-2023
by

Andrea Wakefield
The stroller has been an excellent purchase. I have an elderly Staffordshire Bull Terrier who has trouble walking now . We go all over in the stroller, shopping,country walks and on beach paths The stroller is sturdy and comfortable. I can get it in the boot of the car easily. I can also fit my daughter's elderly Westie inside if he needs a lift when we are out walking.
Innopet Mamut
Posted on 10-04-2023
by

Katrien Bruyninckx
Voldoet volledig aan de verwachtingen, rijdt vlot en is zeer makkelijk in- en uitklapbaar. Zeker aan te bevelen.
Great value for money, so easy to use.
Posted on 31-03-2023
by

Jennie Currie
Having hired a basic buggy for a week I had experienced the negative sides of using a large dog buggy. The InnoPet Mamut buggy has none of these problems, it's so easy to fold away and put up. Reasonably lightweight and easy to manoeuvre, I could push it one handed on flat ground. Roomy inside for my spaniel that likes to circle but narrow enough to go through most doorways. Plus the raincover makes all the difference. My elderly dog took to it reasonably well, she likes to have the top window open so she can look out. The buggy enables her to continue to join me on adventures without putting pressure on her arthritic joints.
Happy dog mum
Posted on 16-03-2023
by

Rachel Atkinson
We are totally chuffed with our new buggy, it's such good quality and worth every penny if it means our fur baby poppy can still enjoy family holidays xx
Blij met deze grote hondentrailer
Posted on 07-10-2022
by

Julia
Ik heb deze hondentrailer gekocht omdat één van mijn Tibetaanse terriers haar staartpees had beschadigd en daarom rust moest houden. Afgelopen jaar raakte kreeg mijn andere Tibetaanse Terriër last van zijn kruisband en en wordt snel moe. Deze sterke buggy is een geweldige aanwinst. Beide TTs en mijn shih Tzu passen erin met nog ruimte over. Het is ook handig dat de buggy zowel aan de voorkant als aan de achterkant kan worden geopend. Het is absoluut de moeite waard!
Definitely a Best Buy
Posted on 23-07-2022
by

Deborah
I love this item. I have three Chihuahuas, one of them is very reactive to other dogs and sometimes people. Trying to walk the three of them is a total nightmare. I bought this stroller as it looked a good size, it's fabulous. The three of them can lie down after a long run, and I can take all of them out without them getting stressed and becoming yappy. It's really easy to maneuver and feels light for the size, but it's really sturdy and well made. This stroller has made all our lives better and happier. Worth every penny :)
Fab stroller
Posted on 11-04-2021
by

Julie
Great stroller for my large older boxer dog. Great on flat smooth surface but took it through woodland today to test it out and was ok without any dogs in it but probably not good if my dog was in it. I also have a three wheel innopet stroller for my ebd which is great going through the woods. This stroller was very sturdy and plenty of room in it and easy to push on a smooth surface. I can now take all my dogs on a long walk and when Harvey is tired he can go into the stroller or Stella my ebd