Reviews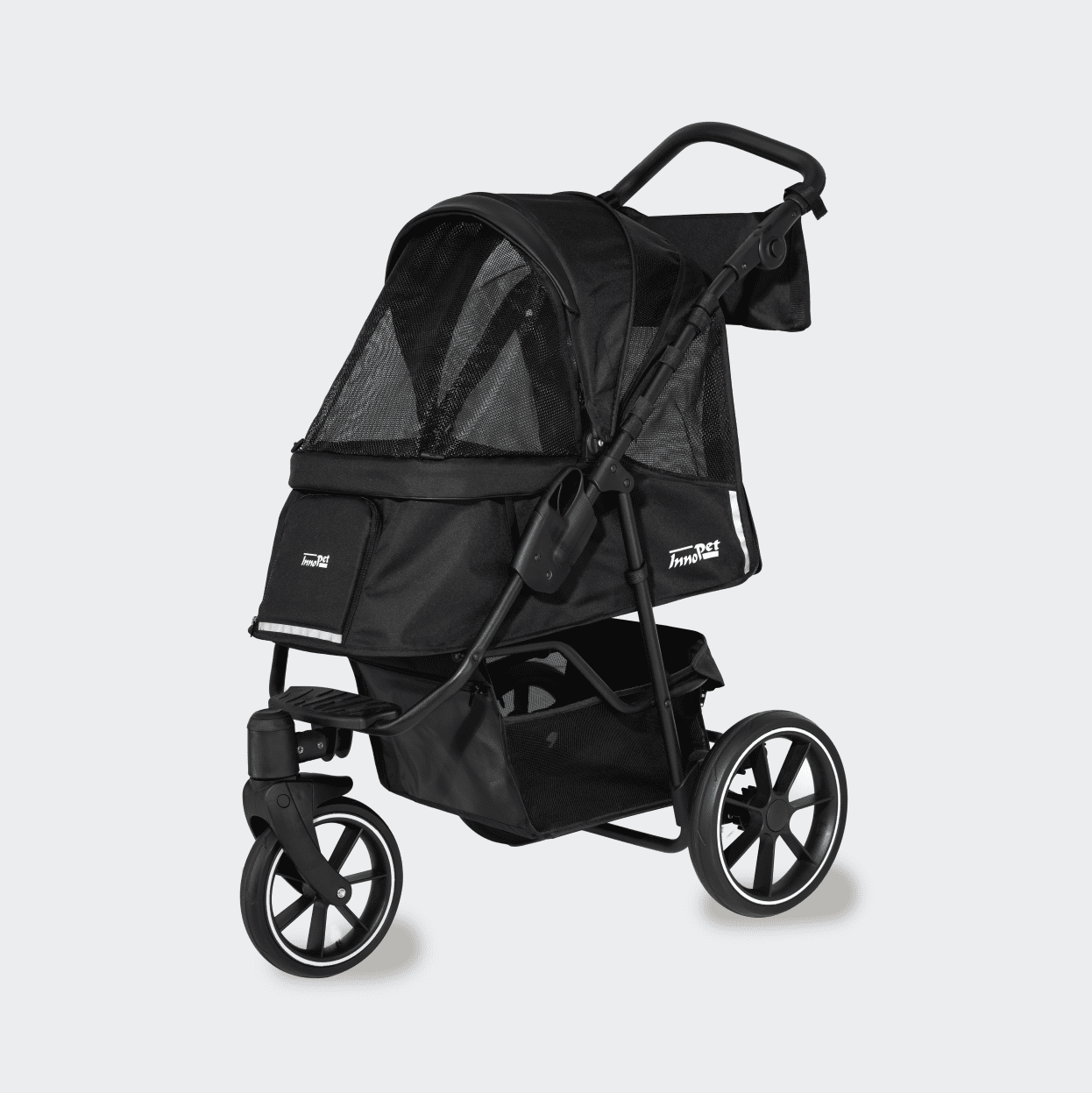 Innopet premium cozy
Posted on 24-09-2023
by

Martens Vera
Nadat ik jaren de innopet efa heb gehad, om medische redenen (dankzij corona vaccin!) deze aangeschaft. Geweldige vering!!! Zéér soepel om mee te rijden. Ook voor mij van belang dat de hoogte van handvat kan ingesteld worden! Zéér tevreden over deze aankoop! Dank u.
The Rolls Royce of buggies.
Posted on 21-09-2023
by

Babs Le Sage
This was absolutely the best purchase ever! It's such a comfort for my Frenchie to be able to rest every now and then in his buggy during long walks or city trips. The suspension is just amazing and so easy to push on any terrain. This is a big plus for elderly dogs with back problems or rheumatism. I often say it's even better than the best baby pram ☺️ definitely worth the money. We couldn't live without it anymore. Love it 😍
The Rolls Royce of buggies !
Posted on 21-09-2023
by

Barbara Le Sage
This was absolutely the best purchase ever! It's such a comfort for my Frenchie to be able to rest every now and then in his buggy during long walks or city trips. The suspension is just amazing and so easy to push on any terrain. This is a big plus for elderly dogs with back problems or rheumatism. I often say it's even better than the best baby pram ☺️ definitely worth the money. It's easy to fold and has many practical compartments to take along everything you need for your furry baby. We couldn't and wouldn't want to live without this doggy Rolls Royce!! Love it 😍
Amazing!
Posted on 16-09-2023
by

H March
Everything about the premium cozy is amazing! Made to last, pure quality. Brilliant suspension, no bumps. Lovely to push. Best innopet I've ever come across. Well worth the money.
Super Buggy!
Posted on 14-09-2023
by

Eva Muschallik
Der Buggy ist sehr leichtgängig, sehr stabil-die Qualität ist noch besser als erwartet! Wir sind total begeistert!
Holly
Posted on 13-09-2023
by

John jones
Very easy to operate comfortable for pet smart looking
Tom''s Mobil
Posted on 12-09-2023
by

Stefanie von Lindern
Ich habe immer gewartet ob wir einen Hundebuggy brauchen? Aber es kommt die Zeit, wo der ältere Tom, er ist ein Westie nicht mehr so große Strecken laufen kann. Er ist immer motiviert und voller Tatendrang, aber er überschätzt sich dann und man muss ihn zurück tragen. Wir haben uns dann verschiedene Hundebuggy's angeschaut. Für uns wären folgende Punkte wichtig: Federung, die Bereifung, das Fahr- bzw. Schiebeverhalten, das Gewicht, das zusammen falten und ganz wichtig die Verarbeitung. Wir haben uns dann für einen InnoPet entschieden. Er ist zwar etwas teurer, aber der Preisunterschied ist gut angelegt. Der InnoPet lässt sich wie ein Kinderwagen schieben, zusammen klappen und ganz einfach wieder aufzuklappen. Wir sind begeistert, Tom liebt ihn schon.....am liebsten würde er auch nach dem Spaziergang in ihm bleiben und sein Nickerchen machen.
Fantastische oplossing!
Posted on 06-09-2023
by

Denise Geerkens
De hondenbuggy werd snel en heel goed verpakt geleverd. Ze is heel mooi, comfortabel en de mand onderin is heel praktisch. Wij hebben de buggy aangeschaft omdat ons hondje Luna een achterpootje mist en geen lange wandelingen kan maken dus het is voor haar een fantastische oplossing! Zo kan ze altijd mee op tocht!
InnoPet Premium Cozy
Posted on 04-09-2023
by

Janine Smith
Slkickers Doghouse were most helpful in promoting the innopet premium cozy and demonstrated its features. It is a robust yet comfortable piece of kit, so easy to manoeuvre and get around those tighter spaces especially with having a 360 rotating front wheel, this can also be locked too. it's like the Ferrari of strollers, my Shihtzu loves her new wheels! The colours are contrasting which is tasteful, and an easy to grip handle which can be moved up and down for comfort. I'm very pleased with this and would definitely recommend this.
Geweldige buggy
Posted on 04-09-2023
by

Mirjam
Makkelijk in elkaar te zetten. Makkelijk in te klappen om mee te nemen. Stevige buggy. Mijn hond zit erin alsof hij de koning is. Een mooi fraai model. Rijd heerlijk.
Uitstekend
Posted on 04-09-2023
by

Van Oorschot
Het design en kwaliteit
Superrrrr
Posted on 31-08-2023
by

Marja luijendijk Verschoor
Ik vind het een mooie stevige wagen goede vering makkelijk in te klappen en uit te klappen lekker zacht matrasje mijn borderterriers passen er samen in
Perfect
Posted on 29-08-2023
by

Huguette Balas
Tot heden geen mindere ervaring
Fit for a king 🐶👑
Posted on 26-08-2023
by

Hannah Pycroft
The innopet premium cosy is very well made, it's sturdy and by the looks super comfy! But the best of all my dog loves it! I can't wait for the many adventures this pet stroller gives me and my aging pooch the opportunity of! Thank you!
Zo blij mee
Posted on 26-08-2023
by

Lydia Draisma
Ik twijfelde tussen de Monaco en de Cozy. En ik heb voor de Cozy gekozen. Dat was een goede beslissing! Ik merkte tijdens de eerste wandeling al dat ik vaker over onverharde wegen en hobbelige stenen liep, dan ik vooraf had gedacht. Mijn hondjes zijn 4.0 en 4.5 kilo, en kunnen met gemak samen. Of eentje erin en eentje aan de lijn, kan hem met één hand besturen. Één minpuntje: er zit geen losse hoes om het matrasje, die moet je los kopen. Of je kan er zelf een kussensloop omheen doen.
Super
Posted on 25-08-2023
by

Sofie van Boxel
Heb deze buggy gekocht wegens knieblessure hond. Mijn hond is er tevreden mee. De buggy is zeer wendbaar, heeft goede schokdemping is comfortabel. Het design is ook mooi . Goede kwalitatieve aankoop.
Dogs on wheels
Posted on 20-08-2023
by

Priscilla van de Kar
Experience the ideal roadability and the ultimate driving comfort!
Fantastic!
Posted on 19-08-2023
by

Nicky Hunt
I wondered if my dog would actually contemplate going in the stroller but tempting him with treats did the trick. We then ventured out for a little walk and he seemed happy! This will be amazing on our holiday. No more cutting walks short and when he has a bad day we can get out and about with him. I'm very impressed with the quality. Nice and light and lovely to steer. I'm glad that we researched which one to get and I'm delighted that it will mean our dog can be more included.
My doggy got wings
Posted on 17-08-2023
by

Sylvia kapsenberg
My 13 year old Coco loves her carriage. Now we don't have to leave her at home on long walks, but can take her with us everywhere we go. People giving us only compliments who see her so happy in the buggy. She is quite a princess. Just be careful with curly nails. They get stuck in the net. When the net is closed it is no problem.
Very happy with it!!
Posted on 10-08-2023
by

Faye Dijkstra
very happy with it, good quality. sturdy, stable and safe for the dog. runs smoothly and easy to use
Kwaliteitsvolle buggy
Posted on 06-08-2023
by

Caroline Van Duren
Dit is de eerste keer dat ik een hondenbuggy koop, maar ik ben heel tevreden van mijn aankoop. De buggy ziet er klassevol uit, is heel wendbaar, makkelijk in gebruik, voldoende plaats voor mijn franse buldog, uitstekende kwaliteit, makkelijk opvouwbaar en past juist in de koffer van mijn Toyota Yaris. Ideaal voor lange wandeling samen met mijn hond George!
Prachtige Hondenbuggy
Posted on 05-08-2023
by

Diana van den Bos
Mooie degelijke stof, ziet er echt mooi uit, goede vering eigenlijk maar 1 woord voor nodig top buggy.
Super tevreden.
Posted on 03-08-2023
by

Janssen Sandra
Zeer stevig buggy valt niet om zoals onze vorige.Heel gemakkelijk om mee te rijden.Grote ligruimte voor ons hondje wat aan haar 2 heupen geopereerd is.Ik kan het niet anders omschrijven,het is een SUPER buggy !
Super wagen!
Posted on 01-08-2023
by

John J.
"Baasje, baasje, je hebt hem voor me gekocht!! De InnoPet Pemium Cosy. Eindelijk mijn eigen bolide. Mooie diepe zwarte stof. Waterwerend door bijgevoegde tegenhield. Goed zicht door het anti- vliegengaas. Uitklapbare voorkant om heerlijk languit te stretchen. Veiligheidsriem voor aan mijn tuigje. Uitstekend zwenk-voorwiel voor praktische korte bochten. Organizer aan de handgreep voor jouw spulletjes. Handige onderbak voor mijn speeltjes en uiteraard het lekkers. Weet je, de InnoPet is ruim genoeg om een vriendje of vriendinnetje mee te nemen. En baas: zeer handig inklapbaar om mee te nemen in jouw bolide. Samen uit en thuis."
Ideale buggy voor elk uitstapje
Posted on 31-07-2023
by

Marianne
Lang gezocht/gewacht op de voor ons ideale buggy. Licht, zeer wendbaar, comfortabel, makkelijk in en uit te klappen compact maar toch ruim en het oog wil ook wat, zwart en hip! Hier kunnen we prima mee op reis, een dagje uit en de bossen in.
Luxe hondenvervoer
Posted on 29-07-2023
by

André van Velsn
Perfecte oplossing als je lange wandelingen wilt maken en je hond(en) tussendoor wat rust wilt gunnen. Of ter bescherming van je hond in drukke gebieden, zoals bijvoorbeeld een markt of drukke winkelstraat. Zeker als je 2 kleine hondjes (border terriërs) hebt zoals wij. Nu zeker een uitkomst nu een van onze honden spondylose heeft. SUPER blij mee!!!!
The brilliant InnoPet Premium Cozy
Posted on 29-07-2023
by

Lynda Roberts
I was looking for a dog stroller for my miniature daschund named Pepi , after he had spinal surgery . I researched several but decided on the InnoPet Premium Cozy. Pepi absolutely loves it as I do. It's so cleverly designed , it was so easy to put together & to fold up. The ride is so smooth, Pepi & I have used it several times this week, it's an absolute Godsend. I had it from Doggy & Moggy, the service was fast & answered any queries I had before buying. Thank you Innopet , I'd certainly recommend you to anyone thinking of getting a stroller .
Geweldig
Posted on 20-07-2023
by

Arnoud
Deze hondenbuggy aangeschaft voor de hond. Wat direct opvalt is de mooie afwerking en de geweldige vering wat het comfort ten goede komt. Enige nadeel is dat de hond er niet meer uit wil . Dus de hond heeft hem ook goed gekeurd. Kortom wij zijn er blij mee en kunnen hem in september meenemen met vakantie
Rolls Royce
Posted on 19-07-2023
by

Tracey Crabb
Love everything, this is an upgrade from an old previous buggy. I cannot fault it, smooth ride , stable to push and out while walking experience has suddenly improved. Highly recommended from both me and my elderly Border Terrier Dylan.
Total Freedom to roam again
Posted on 14-07-2023
by

Linda Rossiter-Jones
My dog buggy only arrived a day ago but already it's given my girl a whole new lease of life. You can tell it's extremely well made so I'm not at all surprised at the confidence of the manufacturer offering the superb 5 year warranty. Already it's been used on the rough terrain at the park which it handles with ease and the smoothness on pavements is fantastic. I particularly think the suspension system really helps with giving my westie the most comfy ride and she has took to it like a duck to water. Also the adjustable handle bar height is a definite bonus as I'm not the tallest myself !! My only real criticism is the colour range beige or black. I think navy blue would look lovely as a colour way or even if black had small polka detail on it …. Just to give it the cuteness factor. Apart from that cannot fault the product so far.
super buggy's van Innopet
Posted on 13-07-2023
by

sabine cloostermans
Deze buggy is natuurlijk veel beter dan mijn vorige , het leder handvat en de wielen super en de vering mijn Hondje Perroke is super gelukkig met zijn nieuwe aanwinst zeker een dikke aanrader grts
Innopet
Posted on 09-07-2023
by

Júlia Uškertová
The stroller is practical, stylish, modern. It helps us a lot in visiting different places. But with a load of 20 kg the brake touches the wheels. When handling, the stroller becomes dangerous, as it is not possible to simply turn it sideways. it happened to us personally that on the transition out of nowhere he braked both wheels. Next time I would choose a different stroller model.
Amazing quality
Posted on 29-06-2023
by

Julie Dickinson
Love the great quality of this buggy. The materials are lovely. The bag that attaches to the handle is of a great size and will be very useful. The mattress is really thick and comfortable and the colour is really attractive. The wheels were easy to put on and were the only bit of construction needed. My only issue so far has been attaching the clip that holds the buggy together when folded but this is maybe because it is new and will get easier when used a little more. Very happy with our purchase
Top hondenbuggy
Posted on 25-06-2023
by

Anja
Een hele fijne buggy voor mijn hondje. Hij is oud aan het worden en lange afstanden worden steeds moeilijker. We nemen ons hondje graag mee op vakantie en dit is een hele fijne oplossing. De buggy loopt heel fijn en veert fijn mee voor ons hondje
Eerder moeten kopen
Posted on 19-06-2023
by

Jan Gorter
Ontzettend blij met deze aankoop. Wat een verschil met onze oude buggy. De oude had dubbele kleine wieltjes en elke oneffenheid was te voelen. De nieuwe Innopet heeft mooi grote wielen die ook nog makkelijk zijn te verwijderen. Mede door de vering is het een genot voor onze kleine Yorkshire die zich gelijk thuis voelde in zijn nieuwe buggy. De vering en het verstelbare lederen handvat maken de buggy helemaal comfortabel. De Innopet is iets duurder maar het geld zeker waard
The max!!!!
Posted on 15-06-2023
by

Valerie Dumoulin
My dog Odette likes it so much. She sleepsysteem in it. She can look every where she can. She feels her safe and momma to😉
We love it
Posted on 07-06-2023
by

Karin
I am more than satisfied and really happy with the Premium Cozy. Since I bought it, my 13 year old Yorkshire terrier and I can enjoy our hiking tours together again. My dog loves ist. The quality is great, the handling easy.
Super buggy
Posted on 06-06-2023
by

Marian Kuzee
Ons hondje mist een voorpoot en kan met dat warme weer niet mee wandelen omdat dat teveel energie kost. Nu kan hij lekker mee samen met de andere hond
Vrijheid voor onze Jack (17 jaar) en ook voor het baasje
Posted on 30-05-2023
by

Belinda Thunnissen
Wij kunnen weer samen een lange wandeling maken in de natuur dankzij innopet. Wij hadden hem veel eerder moeten kopen. Goede kwaliteit wagen en gemakkelijk in gebruik en eenvoudig af te stellen. Wij kunnen hem iedereen aanraden.
Top wagentje
Posted on 29-05-2023
by

Verwulgen
Toppie. Zeer zachte zit voor de hond , makkelijk open en dicht te klappen . Eerste wandeltocht met hondje Jules was een succes .
Kwaliteit
Posted on 25-05-2023
by

nicole wimmers
Vond het een stevige prijs maar daar krijg je dan ook kwaliteit voor. Ideaal voor mijn dwergschnauzer wanneer we op drukke plekken lopen. Wanneer ze later onze lange wandelingen niet meer kan volhouden voldoet deze buggy ook volledig. Rijdt soepel, makkelijk opklapbaar en past zelfs in mijn Toyota Aygo. Wordt zeer compleet geleverd.
Super solide hondenbuggy!
Posted on 25-05-2023
by

Zizi
We hebben de InnoPet premium cozy om meerdere redenen gekozen. We waren op zoek naar een hondenbuggy die lang genoeg is voor onze teckel, solide en toch wendbaar en compact genoeg is, waarbij de duwstang in hoogste verstelbaar is en een belangrijk punt: vering, voor maximaal comfort. Dat laatste omdat de teckel revaliderend is na een herniaoperatie. Deze hondenbuggy omvat dus alles wat wij zochten én heeft ook nog eens een mooie, moderne look! Absoluut een Premium hondenbuggy als je het ons vraagt. Oma ging er gelijk mee aan de haal en de teckel voelt zich als de koning als hij in de buggy wordt voortgeduwd. 👍
Dit hadden we eerder moeten doen!
Posted on 24-05-2023
by

Bart Oostvogels
Het was even zoeken, maar we hebben hem eindelijk gevonden: een degelijke hondenbuggy die stevig in elkaar steekt en is gemaakt van goede materialen. We hebben gekozen voor de InnoPet Premium Cozy in de kleur beige. Die kleur was een bewuste keuze, omdat de lichtere kleur minder gevoelig is voor zonlicht. Het neemt minder warmte op, waardoor het voor onze grote teckelvriend James aangenamer is in de buggy bij zonnig weer. James vindt de buggy geweldig. Onze teckel is het gewend om ook op de fiets meegenomen te worden, dus ook de eerste keer meerijden in de buggy vond hij geen enkel probleem. Gewoon even een snoepje geven voor een positieve associatie met de buggy en hij vond het al snel helemaal goed. James gaat nu overal mee naartoe, naar het winkelcentrum, naar tuincentra en zelfs naar onze lokale supermarkt. Bij dat laatste heeft de buggy een dubbelfunctie, want we gebruiken hem dan ook als boodschappenkarretje. Ideaal! Ook voor een bezoek aan het terras bij zonnig weer gaat onze James en de buggy mee. Het is dan ook erg fijn dat de hond op ooghoogte zit. Kan hij ons mooi zien en wij hem, wel zo gezellig. Het rijden zelf is geweldig. Deze buggy rijdt namelijk vanzelf. Je hoeft hem maar heel licht te duwen. En omdat deze buggy ook goed geveerd is, zijn drempels of bospaden geen probleem. Want ja, ook in het bos gaan we vaak met de buggy op stap. Ingeklapt past hij in de kofferbak van een Picanto, al moet dan wel de rugleuning van de achterbank deels neergeklapt worden. Toegegeven, je moet er wellicht even voor sparen, maar onder de streep hebben wij nooit spijt gehad van de aanschaf van deze Premium Cozy. We hadden het eindelijk veel eerder moeten doen. En je koopt niet alleen een hondenbuggy, maar krijgt er ook een 'winkelwagen' en vooral veel vrijheid voor terug. Dat gaf bij ons de doorslag. Kort samengevat: een topding, aldus James en twee trotse hondenouders.
Oud worden met alle gemakken van dien
Posted on 22-05-2023
by

Sylvia Hommen de Groot
Pas geleden naar pets place in Venlo voor een nieuwe wandelwagen voor ons hondekind die inmiddels al 15.5 jaar is. N tijdje geleden een ander model gezien waar we voor kwamen maar toen zagen we deze staan en waren meteen verkocht!!! Wat een luxe!!! We zijn er ontzettend blij mee alle 3 !!! Hahah hopelijk mogen we er nog lang van genieten. Van hem en de mooie wandelwagen!!!!!
Geweldige aankoop
Posted on 22-05-2023
by

Lotte Feyen
Ik heb even getwijfeld met aankoop omwille van prijs, maar geen spijt. Onze gepensioneerde mopshond van 12kg heeft enorm genoten van onze wandelingen samen. Enorm stevige buggy, aangenaam rijden en manoeuvreren. De verstelbare handbaar is enorm handig als je kleinere kinderen hebt, ook ruime opbergmand onderaan en zakje vooraan. Een echte aanrader.
Geweldig!
Posted on 20-05-2023
by

Ilse Blad
Had ik veel eerder moeten doen! Met een Jack Russel van haast 10 jaar en 1 van ruim 1 jaar is de balans van lopen op lange afstanden niet makkelijk. Met deze zeer wendbare en plezierig voor beide honden (passen er qua gewicht prima samen in en dan kan ik ook boodschappen mee nemen) kunnen we het wandelen goed combineren met en langere afstanden en wat boodschappen. Heerlijk relaxed wandelen. Ook met bospaden gaat deze buggy uitstekend mee alle oneffenheden gaat deze buggy gewoon aan zonder dat de oudste Jack Russel er uit stuitert. Makkelijk op te klappen handig ding! Aanrader! Oh en mee naar mijn moeder in de zorginstelling ook super!
Perfect!
Posted on 16-05-2023
by

Natalina
We were searching for a perfect one and we finally found it! :) Our dog loves it and we are really happy that the quality and color are better than expected. We highly recommend the Premium Pet Cozy!
Blije vriend
Posted on 15-05-2023
by

Evi en Nolleke
Vandaag mijn eerste ervaring gehad… elke dag ga ik met mijn baasje wandelen. Alleen zie ik en hoor ik niet meer goed, ook is mijn conditie niet meer optimaal, ik ben dan ook geen jonge snaak meer. Na een half uur wandelen op deze warme dag, zette mijn baasje mij in de buggy. In eerste instantie heel eng, maar door het zachte kussen en de dikke banden voelde ik mij direct op mijn gemak. Ik kwam eens niet buiten adem thuis aan! Een aanrader voor al mijn hondenvrienden!!!! Nolleke
Optimaal
Posted on 10-05-2023
by

Monique Bijsterveld
Als jaren een Innopet buggy super blij mee
Honden buggy
Posted on 10-05-2023
by

Monique Bijsterveld
Dit is mijn derde buggy van Innopet. Ben er zo blij mee
Wagen voor Luc
Posted on 07-05-2023
by

Diny Verstegen
Goede vering fijne luchtbanden verstelling handvat rijgenot. Netje aan voorkant ook voorzien met een rits zou handig zijn.
Innopet premium cozy
Posted on 07-05-2023
by

Famnieuwenhuijsen
Mooi afgewerkte comfortabele honde buggy. Wel wat omvangrijk in opgevouwen toestand. Maar onze jack vindt het helemaal top!
Prachtige hondenbuggy
Posted on 05-05-2023
by

Luyckx Michele
Deze buggy is zeker de naam super DeLuxe waard rijd goed en de hond vond het eerst even eng maar daarna vond ze het heerlijk nu kunnen wat langer wandelingen gaan doen. Super
It's given me a new lease of life!
Posted on 02-05-2023
by

Sarah Kelly
I absolutely love it. My pug is 5 now, and he gets tired on long walks. Now I can take him everywhere: the shops, the library, the Post Office. It's changed our lives for the better. Thank you!
Schönes Design und leicht und gut händelbar im Alltag
Posted on 29-04-2023
by

Tanja Diemer
Mein Hund ist permanent auf einen Buggy angewiesen, und wir kommen vom Innopet Comfort mit Luftreifen und Hauck Togfit. Was mir am neuen Cosy gut gefällt, ist die Federung. Und die Felgen können einem nicht wegrosten (leider ein großes Problem bei den Luftreifen beim Comfort, leider ist der Kundenservice in Deutschland sehr arrogant diesbezüglich). Die Ablage gibt es nicht mehr, dafür eine Tasche, die am Schiebegriff befestigt wird. Diese ist allerdings null praktikabel im Alltag. Auch die Regenabdeckung hat leider kein Sichtfenster vorne, das sich öffnen lässt. Man sperrt den Hund ein, ich nutze eine andere Marke. Trotzdem alles in allem ein schöner Buggy, der leicht verstaubar auf der Rücksitzbank und wendig daher kommt. Das Schieben selbst ist schwerer als beim Komfort. Mag an der neuen Form liegen. Schön ist aber auch, dass wohl nicht mehr in China, sondern in Europa gefertigt wird. Daumen hoch! Ach ja, die Farbe Beige ist kein Beige, geht eher in Richtung Taupe oder Schlamm ;) Ich bin gespannt wie lange er bei einem tagkuchen Gebrauch von mind. 10km hält.
Honden buggy met dat extraatje
Posted on 15-04-2023
by

Haelewyn Nathalie
Super handige buggy, wendbaar, verstelbare handvaten, zacht kussen voor ons hondje, heel gemakkelijk ineen te klappen. Heel erg blij met deze prachtige buggy! Hier gaan we jaren plezier aan hebben.
Relax buggy
Posted on 15-04-2023
by

Skrolan Libert
Aangekocht omdat ons hondje nog van haar laatste weken kan genieten in comfortabele omstandigheden aan zee, heel zacht vanbinnen, en rijdt heel aangenaam. Ideaal om hierna onze andere hondjes ook in te vervoeren.
We kunnen eindelijk weer wandelen
Posted on 11-04-2023
by

Rianne Haneveer
Wat een heerlijke buggy. Izzy kan 1 pootje door een rughernia niet meer gebruiken, maar door de InnoPet Premium Cozy kunnen we weer lange wandelingen maken. Ze zit als een prinses. De buggy stuurt soepel, en is makkelijk in en uit te klappen. Ook een regenhoes is erbij geleverd. Een stevige buggy die elke wandeling aan kan. Top product.
Fantastisch
Posted on 10-04-2023
by

Saskia Lucassen
Wat een mooie maar ook praktische buggy voor onze twee hondjes. Wij gebruiken deze voor als we naar het terras gaan, uit eten gaan en in Italië. De hondjes kunnen nu overal mee naartoe. De vering is geweldig. De looks is geweldig.
Rolls Royce
Posted on 07-04-2023
by

Daniëlle Dusseljee
Dit is de Rolls Royce onder de huisdieren buggys! Wat een luxe, wat een comfort. Ruimte genoeg voor mijn 2 adoptie snuiters. De hondjes verblijven er in weelde en ook voor mij als privé chauffeur is het een genot om hen op deze manier te vervoeren. Stevig frame, eenvoudig in en uit te klappen, mooie kleurencombinatie van beige, bruin en zwart, goede wegligging en soepel rijden. Ik ben heel blij met de keus voor deze Inopet Premium Cozy!
Mooie, stevige hondenbuggy
Posted on 05-04-2023
by

Peter Grootenhuis
Een mooie en stevige hondenbuggy. We kunnen onze jack russell hier perfect in vervoeren of in doen wanneer we bijvoorbeeld in een restaurant willen eten en we hebben de hond bij ons. Tijdens wandelingen een prettige buggy, het handvat is in hoogte verstelbaar, dus voor iedereen op een fijne hoogte in te stellen. Ook door de extra vering heeft de buggy een fijn rijcomfort. We hebben er een regenhoes bij, dus ook op natte dagen zit onze viervoeter droog. Verder zitten er genoeg ritsen op de buggy, zodat we makkelijk van alle kanten bij onze hond kunnen. Deze buggy is een hele fijne keuze, we zijn er superblij mee. Zeker een aanrader!
Happy dog
Posted on 04-04-2023
by

Tereza Herrmannová
My dog loved it on first sight!!! High quality product, very solid.
A Porche for Luna
Posted on 02-04-2023
by

Carl Rosenvold
Our Westie Luna had a cruciate ligament injury 5 years ago. That's when we bought our first pram. She has recovered without surgery, but for longer hikes she needs to have on-off resting time in her pram. She is now 15, and we have just upgraded to a premium Cozy model, which we find is of a substantial higher standard than the Comfort model, we previously had, and for just a relatively small price difference. We walk on muddy trails and often in wet weather, so it has to be an "all-weather" resistant carriage. LUNA's little brother Monty is just 8, but he also loves a ride when he gets a chance sometimes, and one day he will surely be the proud owner of this luxury pram handed down from his sister.
Super
Posted on 31-03-2023
by

Els Van Heck
Super good quality, easy to ride with! My dogs love it.
Uitstekende service
Posted on 27-03-2023
by

Mariska
Chantal van Motiere Boulevard Middelburg heeft ons heel goed geadviseerd en geholpen ondanks de drukte in de winkel. Fijn dat er nog zulke verkopers zijn die hart voor de zaak hebben. Innopet buggy gaan we zeker plezier van hebben.
Een super wandelwagen voor Luneke, mijn Havanezer.
Posted on 26-03-2023
by

Tinne
Hij is heel mooi,compact, veilig,zacht rijden,heel wendbaar, verstelbaar in hoogte, gewoon alles erop eraan. Luneke zit er heel graag in en ik rijd er graag mee. Op een wip is hij ingeklapt. En de montage ...zelfs een kind kan dat. Ik heb spijt dat ik hem niet al eerder heb gekocht.
Max
Posted on 24-03-2023
by

Isobel chesterman
Only just received. Assembled easily. Have yet to try it out.
Extra machine !!!
Posted on 20-03-2023
by

Paulina
Premium Cozy is high-end, extremly good quality which you can see at first glance. Solid, it is very light to drive, and the leather steering wheel adds luxury ;) A large wheel plus cushioning make it suitable for any terrain :) A soft mattress is an additional asset :), a nice accessory is a bag for small items :) The stroller is impressive. Anywhere we go, everyone pays attention and admire :) We recommend it from bottom of our hearts ♥️
Great Buggy
Posted on 19-03-2023
by

Jen
Only had buggy for a few days but love it already. My girl is getting slower and not interested in walking far due to ill health. The InnoPet Premium Cozy will allow me to continue with our long walks while she sits and enjoys the view!. Loads of space in the cabin area under basket great for water bottles, towel etc. Suspension has been tested in woodland areas and beach so far and is great on both.
Very comfortable for dogs as well for the owner/driver
Posted on 15-03-2023
by

Venna Starren
Good handling on all types of roads and trails. Comfortable space and seating for two small dogs. Rolls very smoothly and quietly. Solid, you can feel the quality. Rolls-Royce experience for me and my doggies.
Perfect stroller for our dog 🐕
Posted on 12-03-2023
by

Ronald Wiebenga
Very good quality product for example the wheels, material/fabric of the pram ! Also the suspension is a positive way to drive your dog very smooth after a surgery operation ! There is one thing that is not so nice, the zipper of cover is difficult to close, we hope this will last long … fingers crossed !
Excellent
Posted on 03-03-2023
by

Laura-Jane Brown
We have tried many prams for my shichon as she is my assistance dog and is required to be with me allot and I do not drive, so having the stroller gives her somewhere safe and comfortable to sit. The stroller doubles up as a walking frame for me too. We have tried other makes but always come back to Innopet and have returned the other makes. We have had 4 Innopet strollers now in 7 years not one of them has worn out yet we have just upgraded. The quality is excellent, my dog can not wait to get in and go out. This stroller is my favourite so far as the handle bar is adjustable, it's so easy to push. My dog found it extremely comfortable to sit in for 3 hours while accompanying me to a medical appointment and infact refused to get out for a further hour after we returned home. Its the perfect size, not too big or small. The fact the back un zips means my dog can walk in and not have to be lifted in. It's absolutely excellent and we can't wait to go on some exciting adventures with this new stroller. The little bag is perfect for our essentials and the rain covet is a fantastic addition. My dog does not like being crated and had surgery last year when she had to be left unattended mainly while I was in the bathroom I popped her in my previous innopet stroller and knew she was safe secure and more than happy. I will never buy another make stroller. Innopet are a great company to deal with also and really quick to reply to any questions I had. Fabulous and fantastic from start to finish. 5 stars is not enough.
Luxe, mooie, stoere maar elegante wagen!
Posted on 26-02-2023
by

P Tesselaar
Ontzettend fijne wagen met goede vering, grote banden voor comfort, verstelbare duwstang. Zeer luxe uitgevoerd, voldoende ventilatie. Met luxe regenhoes (welke, niet onbelangrijk!, na 1x gebruiken makkelijk weer net zo klein op te vouwen is zodat hij weer in het tasje past. Kortom! Wanneer gaan we weer wandelen??;)
Heerlijke wagen
Posted on 25-02-2023
by

Kirsten Ozinga
Al 12 jaar een innopet gebruiker. Ik had een innopet kar met luchtbanden. Nu de Premium Cozy in het camel aangeschaft en rijd heerlijk. Heerlijk vering, nieuw ontwikkelde banden, dus oppompen hoeft niet meer. Is met 1 vinger te besturen. De wagen past makkelijker in de achterbak dan mijn vorige. En de luxe uitvoering vind ik ook echt mooi afgewerkt. Een echte aanrader!!!!